I dont know about you, but we seem to go through first aid products quite a bit. I think that having several first aid kits around the house and at least one in your car is a smart thing. I carry bandages and cleaning ointment in my purse at all times. With kids you are bound to get some boo boos here and there and I know that even myself, I get hurt as well from time to time. I know that when cooking in the kitchen, accidents can happen. With kids running around and constant distractions, a parent in the kitchen is bound to have one or two accidents from time to time. So keeping a first aid kit in a drawer is a very smart thing. I dont know how many times I have gotten splattered by hot grease or I have accidentally cut myself on something or with something. I have found that keeping a first aid kitchen kit comes in handy for those little moments. Well Fieldtex is a company that makes First Aid Kits for just about every reason. I was sent the
Large Kitchen First Aid Kit
to review, and this is the perfect kit for my kitchen! It has the items that come in handy for cuts and burns, so you can treat yourself or others when accidents in the kitchen happen.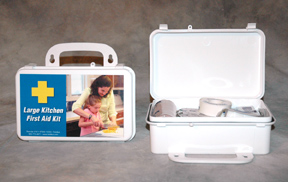 Supply Assortment
3 Burn Free Jel 1/8 oz.

1 Cold Pack

1 Combine Pads 5" x 9"

1 Elastic Bandage 3" x 5yds.

2 Fingertip Bandages

1 First Aid Guide

3 Gauze Pads 3" x 3"

2 Knuckle Bandages

5 Plastic Bandages 3/4" x 3"
5 Plastic Bandages 1" x 3"

2 Povidone Iodine Wipes

1 Roll Gauze 2" x 4yds.

3 Sting Relief Towelettes

1 Tape 1/2" x 5yds.

6 Triple Antibiotic Ointment Packettes

1 Tweezers 3.5"

1 Wire Scissors
The next kit that I just love and find to be very handy with kids is the
Chidren's Essentials Kit
. I was also sent one of these for review as well. This kit has just about everything you need to treat your kids. From the common boo boo treatments to fever and allergy relief that may needed to be treated as well! This is the perfect kit for anyone with kids!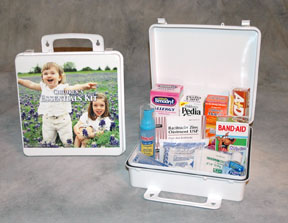 Supply Assortment
1 Bacitracin 1 oz.

1 Benadryl Children's Allergy 8 oz.

2 Cold Packs

4 Gauze Pads 2" x 2"

1 Hand Sanitizer 2 oz.

1 box J&J Bandaids, Scooby Doo 25/box
1 Antiseptic Wash 6 oz.

1 Motrin Oral Suspension Children's Berry 4 oz.

1 Pediacare Children's Cough 4 oz.

1 Roll Gauze 2" x 4yds.

1 Tape 1/2" x 10yds.
The last kit I was sent is one that I find essential for myself. It is the
Women's Travel Kit w/ First Aid Kit
. This kit is great for keeping in my car. So when we go on vacation or go camping I can be prepared with what I might need. This kit is targeted at women and has those emergency, oops I forgot items that women might find they need at the worst times. It also has items that are great to have for those times when boo boos and owies come up and you are out in the woods camping with the family. I love that they also make one similar that is for men, so getting one of each is not a bad idea. That way both of you are prepared when you take the kids camping and someone has forgotten their deodorant or other hygiene products as well as first aid products.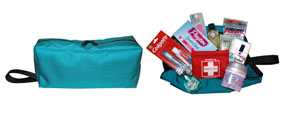 Supply Assortment
1 Dental Flossers Plackers (10/bag)

1 Nail Boards 2 pk

1 Pocket Tissues

1 Eucerin Aquaphor Healing Cream 1.75 oz.

1 Scope Mouthwash 1.49 oz.

1 Colgate Toothbrush w/Toothpaste .85 oz.

1 Lady Speedstick .50 oz.

1 Platex Tampons (4/box)

1 Tresemme' Shampoo

1 Tresemme' Conditioner
1 Mini First Aid Kit

10 Bandages, Plastic 3/4" x 3"
2 Gauze Pads 2" x 2"
4 Alcohol Wipes
2 Triple Antibiotic Ointments
2 Sting Relief Towelletes
2 Antimicrobial Hand Wipes
1 Tape 1/2" x 2-1/2yds.
In all, what ever you might need to prepare your family with when it comes to first aid products, head on over to
https://www.e-firstaidsupplies.com/
and stock up there. They have pre-made first aid kits that are ready to go as well as supplies you might need to replenish or add to your kits and first aid supplies.
I was sent some first aid kits for review. I was not paid to say anything. All opinions are my own!