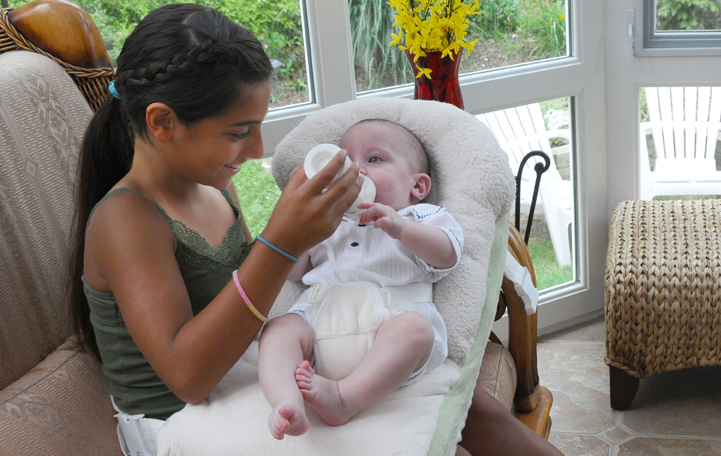 With a new baby, there are so many questions and concerns a new mother might have. I know one concern I had when I had my son was, the fact that my daughter wanted to be my little helper. She wanted to hold her brother and feed him all of the time. She wanted to be right there. The thing is she was four when he was born and she did make me nervous when she would hold him. I know she was very careful with him, but the nerves were still on edge. I did not have a older child around when my daughter was born, so having her there with my son was a whole new adventure for me. That was not my only concern with my son. I have breastfed my babies and I will continue to do so in the future. So there were times that just getting positioned correctly to feed were a task. Then my son also had several medical issues, where he had to be elevated at a certain level for breathing purposes and his medical issues caused him to suffer from acid reflux as well, so getting pillows set a certain way, then getting them to stay that way were all a task at times. I know that we could get him in just the right position, then as soon as we would relax, he would slide down, and we had to get him back up again. This was a ongoing thing it seemed. Now we would have to hold him at a elevated position, and after a while your arms get pretty sore. I know that if I had had a device that I could strap to me then strap my son in, it could have made life so much easier! I found that I was not alone and that there were others out there who felt the same way. In fact they came up with the pillow device that I would have made my best friend when my son was a baby. This will be the pillow I will be using when the next baby comes. It is the
Babee Laptime
. This is the pillow that in my mind, does it all. I can strap it to either of my kids, then put the baby on it and strap it in, then sit back and relax and enjoy my kids helping with the baby!! I can also use the Babee Laptime to breastfeed with. I can strap it on myself, and very easily set it so I can feed the baby without any problems.
Oh and say if there is any need to elevate the baby like I had to do with my son, I can strap the baby in then the baby will be elevated, so breathing is easier and the acid reflux is not so bad!!! I have a play date on Mondays with some of my friends and I brought the
Babee Laptime
to the park with me the other day to show some of the other moms and get their opinions as well. One thing that was pointed out was that mommies and daddies can do other things while sitting down, while still holding the baby. Giving the baby that comfort they crave, but still have the hands free and not have to worry about dropping the baby or the baby rolling!! This is perfect for any new parent that is bringing a baby home, I know that the Babee Laptime will be my new best friend when the next baby comes!!! The wonderful people from Babee Laptime would like to make things a little easier for you as well, they would like to give one of my amazing readers their own
Babee Laptime
!
Mandatory Entry:
Check out all of the features of the
Babee Laptime
and tell me which feature you like best!! Please leave me your email with this entry!
Tweet About This Giveaway Daily
(+1 daily)
Grab my button and leave the URL to where I may find it (2 entries)
Blog about this giveaway and leave the URL to the post (5 entries)
Leave a comment on any of my non giveaway posts ( 2 entries per post )
Enter any of my other giveaways ( 1 entry per giveaway)
Grab The Holiday Gift Guide Button and let me know where I can find it (5 Entries)
This giveaway is open to US residents. This giveaway will end at 11:59 pm on November 18,2011. Winner will be chosen at random.org and will be given 48 hours before another winner will be chosen. All products for reviews and giveaways are given as a sample from the companies. All opinions in reviews I conduct are my own. I was not paid to say anything or review any products.