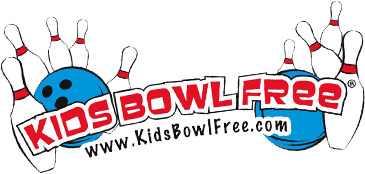 During the Summer, we may plan out our vacations, but those only last so long, and even when we are on vacation we still need to find things to keep the kids occupied with the entire time. Kids are easily bored, and when kids get bored there leaves time for them to find things to get into that maybe they shouldn't or to get lazy, and those are both things that we as parents want to avoid. So like many parents out there, I try and get activities and programs lined up so that when we do not have something planned out, we can still have something to do with the kids over the Summer break. Granted, like a lot of families out there, money is tight, so when I am finding things to do, I have to keep a very small budget in mind and I try to find things like the park, the splash pad, free swim days at the pool, and one of our favorite things to do each year which is Kids Bowl Free! My kids love to bowl, and when we go to the bowling alley not only do we get to enjoy a evening of family fun together, but we can have fun playing at the arcade and eat dinner at the diner that is at our local bowling alley and make memories each time we go, which can be numerous times during the Summer break when we take advantage of the Kids Bowl Free. Another perk that is just too good to pass up is the Family Pass, so that when we go with the kids, we can also save money when we bowl with the kids each time during the Summer! We can also add my parents or any other adults that might be taking the kids bowling over the Summer so that they can take advantage of the Family Pass which can be purchased online at the beginning of the season and used all season long for just $24.95! For me and my family, being able to not only take the kids bowling for free all Summer long, but also be able to go and bowl with them as well using our Family Pass makes the $24.95 more than worth the cost since we end up using our local bowling alley several times over the Summer break! So this year if you are looking for a great gift to get mom for Mothers Day, why not get one that she can use over and over again, get her a Family Pass that she can use along with the Kids Bowl Free this Summer!! Well, to help celebrate Mothers Day, the wonderful people from
Kids Bowl Free
would like to give one of my amazing readers a code to get their own Family Pass for bowling to use this Summer!
a Rafflecopter giveaway
T
his was not a paid post and honest/original opinions were used and they are my own. Thank you to the company and/or pr agency who supplied the product for review.