Product Received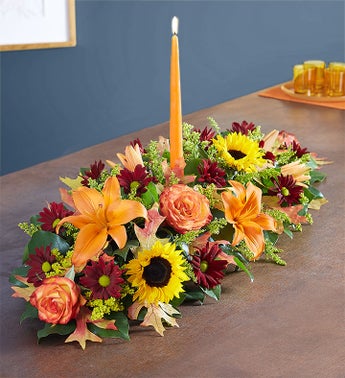 When it comes to Thanksgiving, there are so many traditions that I can remember from my childhood. I can remember gathering at my grandparents house each year, enjoying one anothers company along with an amazing feast that my mom, aunt and grandma spent the whole day preparing. When we would go to the dinning room, we would walk into a room that was decorated for the season. The table was carefully set and in the middle would always be an amazing centerpiece that I can remember sitting and staring at, awing over its beauty. After my grandparents passed away, my mom continued the traditions and one thing that she enjoyed was adding her own beautiful and unique centerpieces to the table. Over the years, we have found that traveling home to my parents for both Thanksgiving and Christmas is too much on the kids and on us. As much as we all enjoy one anothers company, the distance has changed some traditions. So this year, when I was asked to review one of the amazing centerpieces from
1-800-flowers.com
, to truly honor the centerpiece, I had it sent to my parents house. When it arrived, my mom right away knew why I had it sent to her. See the table that my parents have in their dinning room, is the same one that we had shared many Thanksgiving Dinners as well as so many other great memories on at my grandparents house, so having a beautiful, fresh centerpiece to once again place in the middle of this amazing table, was the greatest way, in my eyes, to not only celebrate the holiday apart, but also to honor the tradition.
I find that keeping certain traditions alive as well as starting new ones, is what makes the holiday season and the time with our families that much more special. So this Thanksgiving, whether you are celebrating the holiday together with your loved ones or apart, bring back the
centerpiece
and head on over to
1-800-flowers.com
today!
This was not a paid post and honest/original opinions were used and they are my own. Thank you to the company and/or pr agency who supplied the product for review.