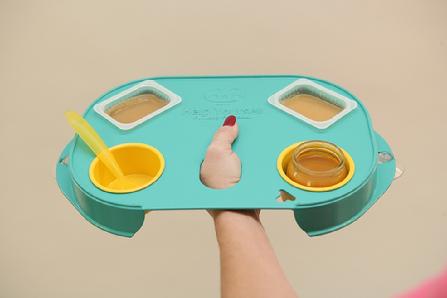 Moms are always trying to come up with creative ways, to make feeding time with their babies easier. When starting your baby with baby food, not only is it exciting but it is also very messy. Then if you place the jar or container with the baby food, down, you could be asking for trouble. If you set it just close enough to your baby, I can guarantee you that it will go to the floor. Or, when feeding, you have to constantly clean your babies face so the mess doesnt get out of control. Well, while trying to feed and clean your baby at the same time, you can get clumsy, a jar can slip from your hand. There is a huge list of possibilities of messy moments that could potentially happen during feeding time. If there are products that can help with this messy situation than I am all for it! I want to let you know about this awesome little helper I found. It is called the Help Yourself Feeding Solution. The Help Yourself Feeding Solution products are perfect for feeding your baby! I dont know how many times we were at the doctors or at the hospital with our son, and all the time that we would spend up there, we would have to feed him while we were there. Trying to feed your baby, while holding the jar can be trying, especially when your baby is eating more than one food at a time. Like, when you have your vegetables, then the entree and fruit or a dessert, having to juggle all of the different containers or jars, can be a cry for trouble. Wouldnt it be nice to be able to feed your baby using a tray that holds all of your babies food? Well, that is exactly what the Help Yourself Feeding Solutions products are for. You can hold the tray with one hand, holding all of your babies food at once, so that you can give them a variety on their pallet, and keep from dropping your babies food and making a huge mess!
Made proudly in the USA!


Help Yourself Feeding Solution is Phthalate-Free, BPA-Free.
Direct food contact safe, top rack dishwasher, and microwave safe (suction cups removed).
All top and Organic Brand ready made foods insert direct. No mess or added bowls to clean! Great for on the go feeding!
Used by parents, Learning Centers, Day Cares, Adult Day Cares, Nurses, Caregiver of elderly, Grandparents, parents of twins, triplets, with one or more children. As seen in BabyTalk, Parenting, and workingmother.com, ProgressiveGrocer and more!
Help Yourself Feeding Solution red, shaped like a heart is perfect for anywhere, anytime on the go feeding! A percentage of the Heart Product will go towards the fight of Heart Disease in America!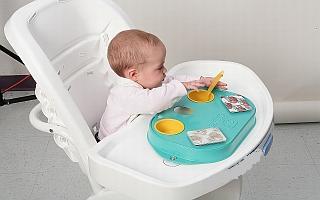 I was given one of these great feeding trays to try in my home. With having a toddler, we used it to help him with his yogurt and applesauce. So, much easier! When we went to the park, I was able to give my son some pudding and applesauce, while sitting on a park bench! Oh, and the best thing is, the majority of the food made it to his mouth!!! I had moms around me asking what I had and where they could get one! I now have this awesome tray, in our diaper bag and it does go with us everywhere!!! I am going to give 2 of my readers some Help Yourself Feeding Solutions to try in their own homes, courtesy of Help Yourself Feeding Solutions which is part of Mark Industries!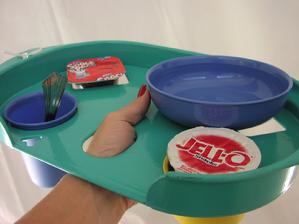 I am giving away one Original Help Yourself Feeding Solution Teal and one Heart Baby Feeding Tray! So I will be picking 2 winners!!


Mandatory Entry: Follow Help Yourself Feeding Solution on Facebook and leave them a comment letting them know I sent you!! Come back here and let me know in a comment that you have done this, also leave me your email address!!!


Extra Entries:


Follow me on Twitter and tweet about this giveaway daily
Follow me on Facebook
Follow me on Google Friends Connect
Vote for me on the Top Mommy Blogs
Enter any of my other giveaways (1 entry per giveaway)
Grab my button and leave the URL to where I may find it
Blog about this giveaway and leave the URL to the post (5 entries)
This giveaway is open to US residents. This giveaway will end at midnight on October 22,2010. Winner will be chosen at random.org and will be given 48 hours before another winner will be chosen.