I love cherries and even better, chocolate covered cherries! I was given a bag of Nestles Cherry Raisinets to review for my readers, courtesy of Nestle. These chocolate covered cherries are just awesome!! They are covered with awesome Nestle Dark Chocolate!! So savory and the perfect bitter sweetness I love!!! The Nestle Cherry Raisinets will make the perfect stocking stuffer this year, and not only are they a sweet treat to add as a stocking stuffer, but they are also good for you!! The Nestle Cherry Raisinets are a great source of fruit and dark chocolate antioxidants!
Cherry RAISINETS are the ultimate treat for snackers of all ages. Premium, whole dried cherries are sourced from one of the premier cherry growing regions in Michigan. These Montmorency Tart Cherries are drenched in rich NESTLÉ® Dark Chocolate, creating a mouthwatering combination that is both sweet and creamy while also juicy and tangy. For anyone looking for something different, Cherry RAISINETS provides a win-win option with ½ a serving of real fruit in every ¼ cup and 30 percent less fat than the leading chocolate brands.
A Smart Choice!
According to experts from the National Association for the Specialty Food Trade (NASFT), good-for-you foods are one of the Top Five Trends in 2010.* With natural, whole dried cherries that are bursting with flavor and a natural source of antioxidants and 30 percent less fat than the leading chocolate brands, NESTLÉ Cherry RAISINETS are a better-for-you treat in line with this trend. Coupled with dark chocolate, another source of antioxidants, Cherry RAISINETS truly give snackers something new to be excited about.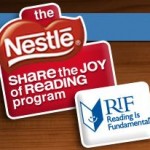 Nestlé® Share the Joy of Reading Program
For nearly 20 years, Nestlé USA has partnered with Reading Is Fundamental (RIF), the nation's oldest and largest nonprofit children's literacy organization. The partnership is part of Nestlé's ongoing commitment to education as the key to a brighter future and a better quality of life for everyone.
Nestlé Confections & Snacks has announced the launch of "The Nestlé Share the Joy of Reading Program," which contributes to RIF and also gives consumers the opportunity to be rewarded with a wide range of prizes.
With deep cuts in federal funding during these difficult economic times, RIF is at risk of losing roughly 75 percent of its annual revenue. Now more than ever, it is important to give back to organizations such as RIF that are dedicated to supporting underserved communities.
Through this program, consumers have the opportunity to help give books to needy kids by looking for promotion codes inside specially marked bags of NESTLE® AND WONKA® candy: NESTLE® CRUNCH®, BUTTERFINGER®, BABY RUTH®, 100 GRAND®, BUTTERFINGER CRISP®, NESTLE® CRUNCH CRISP®, BABY RUTH CRISP® and WONKA® LAFFY TAFFY®, NERDS®, SWEETARTS® and MIXUPS®
· Consumers can enter the promotion code found inside specially marked bags of NESTLE® and WONKA® candy at : www.celebrationcorner.com/RIF.
· Nestlé will donate $.10 to RIF every time a promotion code is entered to play the instant win game.
· Nestlé will also donate a book in the form of $2 to RIF for each instant win.
The Benefit to RIF
· Nestlé Confections & Snacks will donate up to $250,000 to RIF over the 19-month promotion (running from June 2010 – December 2011). (Nestle will donate $.10 for each game code played and $2.00 for each Instant Win, up to a maximum of $250,000. If the total donation is less then $100,000 at the end of the program, Nestle will guarantee a $100,000 donation to RIF.)
· Nestlé has helped donate more than $6 million to RIF and helped more than 600,000 children over the past 20 years.
The Benefit to Consumers*
· Consumers can instantly win a $10 book certificate.
· Consumers could win $5,000 as part of one of the monthly drawings.
This holiday season, Nestle would like to celebrate with the readers over at Mommy Katie, by giving one lucky reader a bag of the new Nestle Cherry Raisinets to share with someone special this holiday season!!
Mandatory Entry:
Tell me what your favorite Nestle product is, leave your email with this entry!!
Extra Entries:
Follow me on Twitter and tweet about this giveaway daily
Follow me on Facebook
Follow me on Google Friends Connect
Vote for me on the Top Mommy Blogs
Grab my button and leave the URL to where I may find it
Blog about this giveaway and leave the URL to the post (5 entries)
Grab The Home For The Holidays Button and leave the URL to where I may find it
This giveaway is open to US residents. This giveaway will end at noon on December 4 ,2010. Winner will be chosen at random.org and will be given 48 hours before another winner will be chosen. All products for reviews and giveaways are given as a sample from the companies. All opinions in reviews I conduct are my own. I was not paid to say anything or review any products.