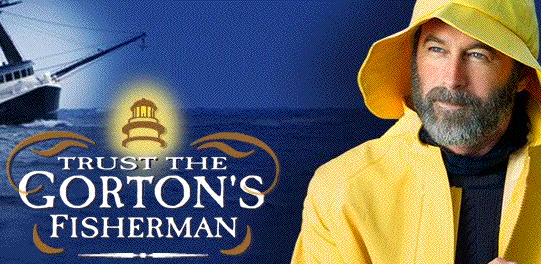 This time of year, like many others, we will be spending a whole lot of time with family. At my parents house, everyone comes in from out of town and we spend time together. A whole lot of sitting down and catching up. Eating together, snacking together, family time! I love it. I love going home and visiting over the holidays. I love all of the time and moments we share as a family this time of year. This year when we are sitting around talking, we will be eating some Gorton's Frozen Seafood. I was on the Gorton's site earlier, and I printed off some great recipes to take to my parents and share with my family. I am really looking forward to the afternoon on Christmas Eve when we will all be at my parents with friends and family, eating and sampling lots of wonderful foods. I plan on getting some of the Gorton's Grilled Shrimp Scampi so I can make some of the Spicy Chipotle Shrimp Cups. I think these will be a hit this year! I also plan on making some of the Gorton's Inside Out Shrimp Poppers, and since I was given, courtesy of Gorton's , some coupons to purchase some of the wonders Gorton's Seafood, I am going to use them this holiday season!!
Create an upscale appetizer tray in less than 15 minutes, featuring a trio of Gorton's shrimp products, leaving you time to actually enjoy your holiday get-together: Spicy Chipotle Shrimp Cups (recipe below) made with Gorton's Grilled Shrimp Scampi, Gorton's Popcorn Shrimp and Butterfly Shrimp Temptations. Skewer extra Grilled Shrimp Scampi on the side.
Spicy Chipotle Shrimp Cups
Ingredients:
12 Gorton's Grilled Shrimp Scampi

1 Stick butter, melted

12

Phyllo Dough

sheets

¼ cup Chipotle salsa

¼ cup Shredded

pepper jack cheese
Directions:
Preheat oven to 350°F.

Brush 1 sheet of phyllo dough on a work surface with the melted butter, covering unused phyllo dough with a damp paper towel.

Top phyllo dough with 3 more sheets, brushing each sheet with melted butter.

With a large chef knife or

pizza cutter

, cut the layered phyllo dough into 12 equal pieces, (~4" x 3").
Press one square of phyllo dough into 12 spots on a mini

muffin tin

.

Add 1 tsp salsa and 1 tsp shredded cheese into each phyllo square.

Bake at 350°F for 10 minutes

In the meantime, prepare Gorton's Grilled Shrimp Scampi according to microwave instructions.

Top each cup with a shrimp and serve immediately.
Gorton's Inside Out Shrimp Poppers
Ingredients:
15 Gorton's Breaded Butterfly Shrimp

2 oz

low-fat cream cheese

15 cheddar cheese pieces, cut to 1″x3/4″

4 oz

cocktail sauce

15 jalapeno slices
Directions:
Preheat oven to 425°F, arrange Gorton's Breaded Butterfly Shrimp on foil-covered baking sheet and bake 12 minutes.

In the meantime, spread a thin layer cream cheese on one side of each slice of cheese.

Turn shrimp, top each with cheese slice, cream cheese side down and bake 5-7 minutes.

Top each shrimp with a dollop of cocktail sauce and a jalapeno slice. Enjoy.
With family get togethers and football parties in the plans this season, not only has Gorton's given me a couple of coupons for some of their wonderful frozen seafood, but the wonderful people from Gorton's would like to wish my readers a Very Merry Christmas and a Happy New Year by giving 2 of my readers 2 Gorton's full value coupons each, to use on any Gorton's Frozen Seafood Product!!
Mandatory Entry:
Like Gorton's Seafood on Facebook. Leave me your email with this comment!!
Extra Entries:
Follow me on Twitter and tweet about this giveaway daily
Follow me on Facebook
Follow me on Google Friends Connect
Grab my button and leave the URL to where I may find it
Blog about this giveaway and leave the URL to the post (5 entries)
This giveaway is open to US residents. This giveaway will end at midnight on January 18,2011. Winner will be chosen at random.org and will be given 48 hours before another winner will be chosen. All products for reviews and giveaways are given as a sample from the companies. All opinions in reviews I conduct are my own. I was not paid to say anthing or review any products.