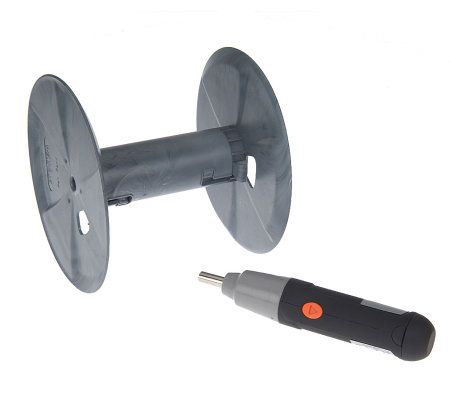 I know that after the holidays are over there is a lot of work to be done on putting up all of the holiday decorations. And yes that does include the dreaded Christmas lights. You know those lights that took you and your husband a whole day to put up. The ones that took about two hours to unravel before you could even attempt to put them up. Yeah, we all dread getting them down and putting them back up. I think I can remember times that my parents would just avoid taking them down and they would still be up the next year. Lol. I also know that if I was not so particular on things, my husband would do the same and it would not bother him one bit. But, as soon as we get done with our New Years celebrations, I start putting everything back into storage. It seems that no matter how carefully we wrap the cords up and place them in the box, the following holiday season we always get at least one string of lights that is tangled. So when I was given the STOR'EM Cord Organizer to review, I was very thrilled to be able to try this product out. Even though our light are still up, I had some strings of lights in the lights box that we did not use, so I was able to try this awesome cord organizer out. The STOR'EM Cord Organizer is so easy to use. You place the end of the cord or string of lights in the beginning catch, then you hook up the screw driver that it comes with, turn on the screw driver and in just a couple of minutes, your cords or lights are all put up with out getting the tangles in them. And then the spool stores so easily so you dont have to worry about all of the mess everywhere! Not only was I give a new STOR'EM Cord Organizer to help me out with my holiday lights storage needs, but the people from STOR'EM Cord Organizer, are going to give one of my readers a STOR'EM Cord Organizer!!
Mandatory Entry:
Tell me what you like about the STOR'EM Cord Organizer. Leave me your email with this entry!
Extra Entries:
Follow me on Twitter and tweet about this giveaway daily
Follow me on Facebook
Follow me on Google Friends Connect
Grab my button and leave the URL to where I may find it
Blog about this giveaway and leave the URL to the post (5 entries)
This giveaway is open to US residents. This giveaway will end at midnight on January 14,2011. Winner will be chosen at random.org and will be given 48 hours before another winner will be chosen. All products for reviews and giveaways are given as a sample from the companies. All opinions in reviews I conduct are my own. I was not paid to say anthing or review any products.