I know that like many other families out there, we are always looking for ways to save money. One way that I have found that has saved us money, is at home hair cuts! We have used a Wahl Home Clippers for the past couple of years for cutting my husbands hair. My husband is a former Marine and that being said he likes to keep his hair high and tight. My Jar Head! So when we were given the Wahl Color Pro to review, I knew that this clipper would help us with our at home hair cuts and help me in making sure I get the correct lengths for my husband. This past year my little boy has decided that he wants his hair like daddies so we have also been doing his hair every time I shave daddies hair! I dont cut my sons hair as short since his hair is still fine and really blonde, so the different attachments really come in handy and the color guide does as well!! This color guide is perfect for getting that barber style cut for everyone in your home in the comfort of your home! I know that since we started doing at home hair cuts we have saved about $50 a month. Which is a huge savings when you count up $600 saved in one year! This kit has everything you need and at around $40 its like putting money back in your pocket! Buying a Wahl Clipper will make a great gift this holiday season or a great investment this holiday season!!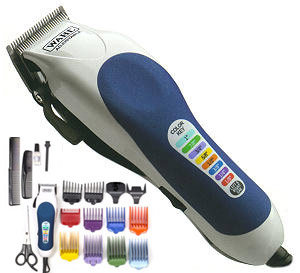 COLOR-CODED STYLE GUIDES:

Wahl® ColorPro

features colored guide comb attachments with a coordinated color chart, making it easy to identify the guide combs to use for each member of your family.
Kit Includes:
Multi-cut clipper
Blade guard
Storage case
Flattop comb
Styling comb
Pocket comb
Scissors
Neck duster
Cape
2 Hair clips
Cleaning brush
Blade oil
13 guide combs

1/16″ (1.5mm) – light green
1/8″ (3mm) – red
1/4″ (6mm) – purple
3/8″ (10mm) – dark blue
1/2″ (13mm) – orange
5/8″ (16mm) – yellow
3/4″ (19mm) – lavender
7/8″ (22mm) – green
1″ (25mm) – light blue

Left ear taper
Right ear taper
Ear trim guide
Eyebrow trim guide
English & Spanish Instructions/ Styling Guide