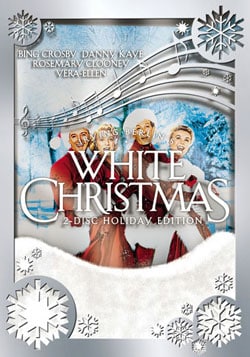 Director Michael Curtiz and Paramount Pictures delivered White Christmas to movie theaters in 1954. Bing Crosby and Danny Kaye play the hotshot entertainers, with Rosemary Clooney and Vera-Ellen as the singing Haynes Sisters.
White Christmas is a treasury of Irving Berlin classics, among them "Count Your Blessings Instead of Sheep," "Sisters," "Mandy," and the beloved holiday song, "White Christmas." In this incredible 2-Disc Anniversary Edition, you will find the timeless musical, plus new special features that include backstage stories, a look at the actors and more!
Two talented song-and-dance men (Bing Crosby and Danny Kaye) team up after the war to become one of the hottest acts in show business. One winter, they join forces with a sister act (Rosemary Clooney and Vera-Ellen) and trek to Vermont for a White Christmas. Of course, there's the requisite fun with the ladies, but the real adventure starts when Crosby & Kaye discover that the inn is run by their old army general who's now in financial trouble. And the result is the stuff dreams are made of.
This is one of those holiday classic movies that my parents shared with me and I am happy to be able to share with my kids!
Special Features:
Commentary by Rosemary Clooney

Backstage Stories from White Christmas

Rosemary's Old Kentucky Home

Bing Crosby: Christmas Crooner

Danny Kaye: Joy to the World

Irving Berlin's White Christmas

White Christmas: From Page to Stage

White Christmas: A Look Back with Rosemary Clooney

2 Theatrical Trailers
White Christmas stars Bing Crosby, Danny Kaye, Rosemary Clooney, and Vera-Ellen. It was written by Norman Krasna, Norman Panama and Melvin Frank and directed by Michael Curtiz. It was released on Blu-ray and DVD on November 2nd, 2010. It is not rated and runs 120 minutes.
http://www.amazon.com/White-Christmas-Two-Disc-Holiday-Crosby/dp/B0040PEZSO