GameMill Entertainment's Country Dance for Wii™ lands on store shelves nationwide today.
Country Dance features more than 25 songs from country music's biggest names of past and present including Carrie Underwood, Miranda Lambert, Brad Paisley, Sugarland, Johnny Cash, Miley Cyrus, Brooks & Dunn, Zac Brown Band, Tim McGraw and more.
Country Dance is easily accessible to newcomers and familiar to fans of the popular rhythm dance genre of videogames. With integrated friendly cooperative modes, anyone can pick-up aWii Remote™ and get moving along with their favorite dance partners. For more experienced players, the perfection mode assesses each dancer's skill and gives a score only when their move is a perfect hit.
Country Dance for Wii™ is rated E10+ for Everyone by the ESRB and is now available for $39.99. For more information about Country Dance, please visit Country Dance on Facebookor follow Country Dance on twitter @Country_Dance.
About GameMill Entertainment
GameMill Entertainment is located in Minneapolis, Minnesota. GameMill is a third party publisher of various Children's and Casual games for the PC, Nintendo DS, and Wii from Nintendo. With development across the globe, GameMill is a source of entertaining and fun games for all ages. www.game-mill.com.
I was given this awesome game to review for my readers! This amazing game come packed with great songs to dace to. Country Dance lets players dance along to some of their favorite country tunes on Wii. Players will earn points moving their Wii Remote and replicating the onscreen dance moves as closely as possible. Country Dance allows players to customize their characters' look and challenge friends and family in a dance-off duel!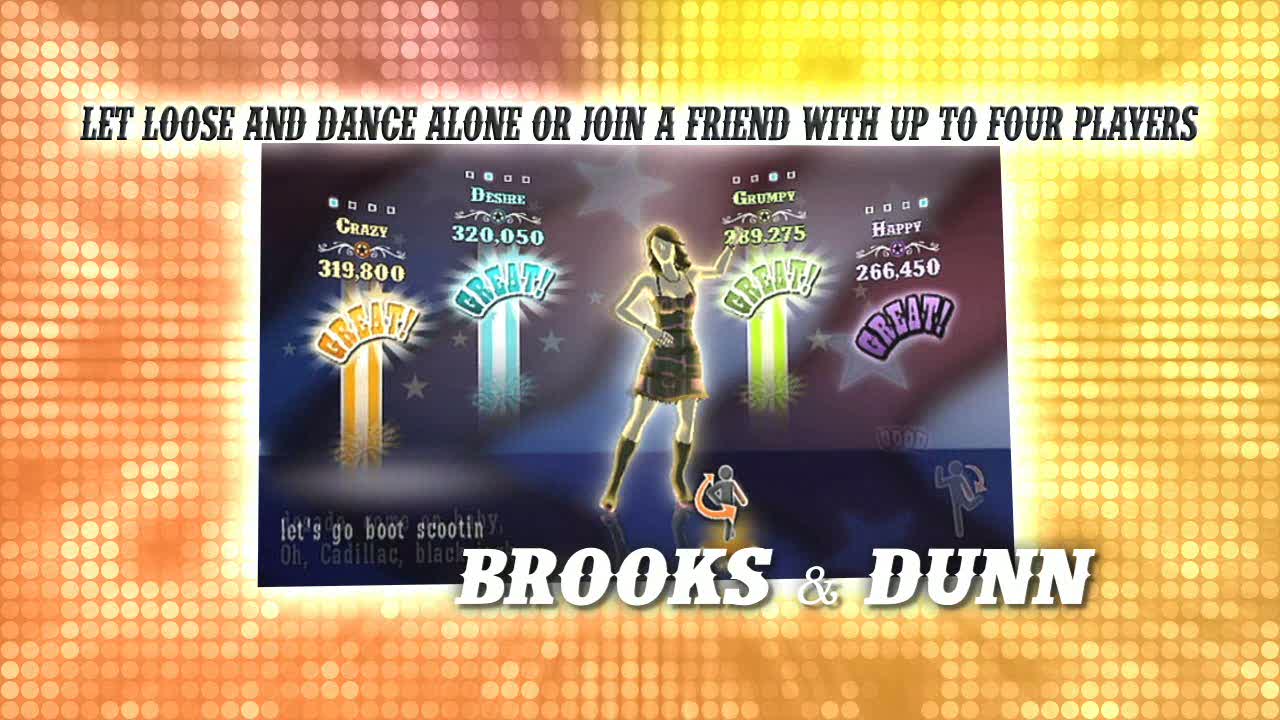 Full set list includes:
· Alan Jackson, "Chattahoochee"
· Miley Cyrus, "Hoedown Throwdown"
· Brooks & Dunn, "Boot Scootin' Boogie"
· Billy Ray Cyrus, "Achy Breaky"
· Toby Keith, "A Little Less Talk"
· Dierks Bentley, "What Was I Thinking"
· Darius Rucker, "Alright"
· Gretchen Wilson, "Redneck Woman"
· Laura Bell Bundy, "Giddy On Up"
· Randy Travis, "Forever and Ever Amen"
· Tracy Byrd, "Watermelon Crawl"
· Josh Turner, "Why Don't We Just Dance"
· Luke Brian, "Ran is A Good Thing"
· Mary Chapin Carpenter, "I Feel Lucky"
· Jerrod Niemann, "Lover Lover"
· Josh Thompson, "Beer on the Table"
· Easton Corbin, "A Little More Country Than That"
· Carrie Underwood, "Cowboy Casanova"
· Brad Paisley, "Water"
· Sugarland, "Stuck Like Glue"
· Trace Adkins, "Honky Tonk Badonkadonk"
· Tim McGraw, "Just to See You Smile"
· Zac Brown Band, "Chicken Fried"
· Rascal Flatts, "Life is A Highway"
· Blake Shelton, "All About Tonight"
· Miranda Lambert, "White Liar"
· Johnny Cash, "Ring of Fire"