Welcome to week 10 of Hop a Little Tuesday.
There are 3 different linkys. You can link up your Blogs, Facebook, & Twitter accounts!
RULES:
*Become a follower of the first 4 blogs on the list. [leave comments and we will all follow back!] Your links will be removed if you are not following the first 4 blogs.
*Link yourself to the list.
*Make sure you leave comments for new blogs that you follow saying that you are stopping by from Hop a Little Tuesday].
*Come back next week.
*Please add the button to your blog, & share the link with your Facebook readers & Twitter followers & help us spread the word! [You don't have to…but it would be AWESOME if you did!] The more the merrier!
One random person will be chosen to have a spotlight post next Tuesday on Little Boys are Made of Frogs and Snails and Puppy Dog Tails, Love You Always and Forever, & Mommy Katie.
In the spotlight this week:
The Baby Bottom Line
[Meet Lisa. Mom to 1. Has been blogging for over a year for BBL & Oh Baby! Magazine. She has some pretty awesome product reviews and giveaways and loves hearing from her readers.]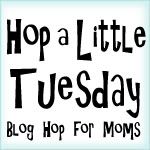 Link your blogs here:

Link your Facebook pages here:



Link your Twitter accounts here:



Happy Hopping!