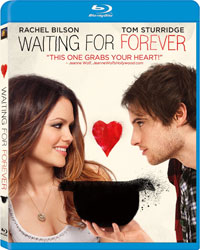 YOU NEVER FORGET YOUR FIRST LOVE
WAITING FOR FOREVER
Fall In Love Once Again with WAITING FOR FOREVER
On Blu-ray and DVD May 3
SUMMARY:Don't miss your chance for love when WAITING FOR FOREVER comes to Blu-ray and DVD from Twentieth Century Fox Home Entertainment. From the producer of Walk the Line, WATING FOR FOREVER tells a story of childhood love that knows no bounds. This Dove family approved film is available May 3 just in time for Mother's Day.
Rachel Bilson (Jumper, The O.C.) and Tom Sturridge (Pirate Radio) lead an all-star cast in this unforgettable love story. Sturridge creates a mesmerizing and unforgettable character in Will, the quirky street performer with a free spirit and a heart of pure gold. The object of Will's lifelong affection is Emma (Bilson), the beautiful young actress whom he has never stopped loving since they were childhood sweethearts. But when they reunite, and Will gets swept up in Emma's complicated past, his innocence and all-consuming passion could cost him everything he's ever wanted.
WAITING FOR FOREVER also stars Richard Jenkins (Step Brothers), Blythe Danner (Little Fockers, Meet the Fockers), Nikki Blonsky (Hairspray) and Jaime King (Sin City, Pearl Harbor).
Discs are available only in the U.S.
Waiting for Forever 1-disc Blu-ray (Catalog 2275132)
Street Date: May 3, 2011
Screen Format: Widescreen Audio: English 5.1 DTS-HD Master Audio Subtitles:English, Spanish
U.S. Rating: PG-13
Total Run Time: 1:46:57
Closed Captioned: Yes
Waiting for Forever 1-disc DVD (Catalog # 2275128)
Street Date: May 3, 2011
Screen Format: Widescreen Audio: English 5.1 DD
Subtitles: English, Spanish
U.S. Rating: PG-13
Total Run Time: 1:46:57
Closed Captioned: Yes