Sun Chlorella USA offers healthy living with Nature's Perfect Superfood – chlorella. A freshwater green algae, chlorella is the heartbeat of Sun Chlorella USA's products and delivers many essential nutrients your body craves:
• Fiber: One serving of Sun Chlorella contains more dietary fiber than many leading fruits and vegetables.
• Prebiotics: Sun Chlorella works as a prebiotic that helps promote the growth of good bacteria and improve your body's digestive health.
• Greens: One serving is equivalent to one serving of fresh green vegetables (without the pesticides)!
• Protein: Ounce-for-ounce, chlorella has more protein than steak or soy.
• Chlorophyll: Sun Chlorella has the highest chlorophyll levels of any plant-based food source. This aids in expelling harmful toxins from the body, providing natural and gentle detoxification.
Sun Chlorella's energy boosting Sun Eleuthero, high quality "A" Tablets, nourishing multipurpose Skin Cream and toxin reducing Granules (perfect for smoothies) are highly favored among dedicated customers.
Visit the official site:SunChlorellausa.com
"Like" on Facebook: Facebook.com/SunChlorella
Follow on Twitter: @SunChlorellaUSA
UPDATE: For questions relating to Sun Chlorella and the tragedy in Japan,
please visit SunChlorellaUSA.com/JapanFAQ.html
A healthy diet for your skin.

It is our largest, most exposed organ – yet often we pay no more than topical attention to our skin. To achieve all-around fit skin, we must address our internal and surface needs together. Sun Chlorella USA introduces the first product that cares for your skin's outer integrity while delivering the nourishment vital to its health, rejuvenation and inner renewal – Sun Chlorella Cream

®

.
Advanced skin care with Chlorella Growth Factor.
Sun Chlorella Cream®, with its blend of natural ingredients and purified water base, diffuses into your skin's surface to hydrate the cells, keeping your face fresh and moisturized longer. Once absorbed, the nucleic acids in the Chlorella Growth Factor (CGF) begin stimulating skin cell activity. Cultivated from nature's perfect superfood, Chlorella, the CGF in every ounce of Sun Chlorella Cream® feeds your skin the nutrients it needs to restore; leaving you with healthy skin and an effervescent glow.
I am giving one of my amazing readers a jar of their own Sun Chlorella Cream to try out! A $75 value!! Also use the code BLOGSAVE11 here, and get a great discount on Sun Chlorella's highly favored products.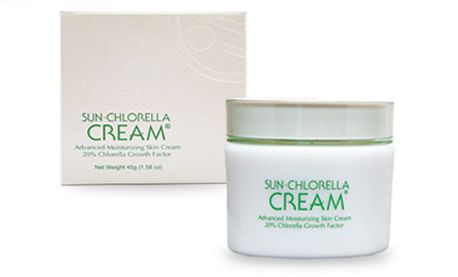 Mandatory Entry:
Tell me what other product from Sun Chlorella you would like to try!!
Extra Entries:
Like Sun Chlorella on Facebook
Follow me on Twitter
Tweet About This Giveaway Daily
Follow me on Facebook
Follow me on Google Friends Connect
Follow me on Networked Blogs
Subscribe to my email
Grab my button and leave the URL to where I may find it (2 entries)
Blog about this giveaway and leave the URL to the post (5 entries)
Enter the 12 Weeks of Summer Vacation Giveaway from the link on my blog! (5 entries)
Leave a comment on any of my non giveaway posts ( 2 entries per post )
Enter any of my other giveaways ( 1 entry per giveaway)
This giveaway is open to US residents. This giveaway will end at 11:59 pm on June 27,2011. Winner will be chosen at random.org and will be given 48 hours before another winner will be chosen. All products for reviews and giveaways are given as a sample from the companies. All opinions in reviews I conduct are my own. I was not paid to say anything or review any products.