Believing
In The Impossible
Inspired
by TOOTH FAIRY 2
The comedy with bite is
back and funnier than ever; TOOTH FAIRY 2 arrives on
Blu-ray and DVD March 6 from Twentieth Century Fox Home
Entertainment. The one man comedy phenomenon, Blue Collar Comedy
Tour's Larry the Cable Guy (Cars, Cars 2, and History
Channel's Only in America) sinks his teeth into this
outrageous follow-up to the 2010 theatrical hit Tooth Fairy.
In
TOOTH FAIRY 2,
Larry is reluctant to believe in Nyx, his Tooth Fairy boss, and here
we will showcase some other films that also deal with the topic of
believing in the impossible.
Enter at the bottom of this feature to
win a copy of TOOTH FAIRY 2 on DVD!
Hook
Peter Banning (Robin
Williams) is a cutthroat, hard working lawyer – but little does he
realize that he is also the real life Peter Pan! Though he doesn't
believe that this fairy tale is possible, he is forced to confront
Captain Hook when his children are kidnapped whisked away to the
magical Never Never Land. With the help of Tinkerbell and his old
friends, the Lost Boys, he is able to save his children, as well as
accept who he is and learn to believe in the extraordinary.
Wild Hearts Can't Be
Broken
Sonora Webster is a
runaway teen who arrives in Atlantic City to become famous, and finds
her way into the world of horse diving. Although she excels, she has
an unfortunate accident while diving that leaves her permanently
blind. Although Al Carver, her husband, doesn't want her to continue
to dive, Sonora is determined to carry on with her career, and works
tirelessly with her horse until she can prove that she is able to
perform just as well as she could before her accident.
A League of Their Own
When WWII threatened to
interrupt America's favorite pastime, Chicago Cubs owner Walter
Harvey had the idea to create an all women's baseball league.
Not only did the women in this film have to work hard to prove
themselves and be taken seriously in the male dominated world of
sports, but their coach and manager, Jimmy Dugan (Tom Hanks) must
work equally as hard to show that he isn't the washed-up baseball pro
turned alcoholic that the world thinks he is. Despite all of the
team's hardships, their determination pays off as they are ultimately
able to compete in the World Series.
An American Tail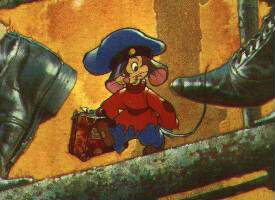 Fievel, a young mouse, is
immigrating to America from Russia with his family, as they try to
make new lives for themselves that are free of cats! However, poor
Fievel gets separated from his parents on the boat they are set to
arrive on, and must attempt to survive by himself in the strange city
of New York. Though he has some close calls, he makes some new
friends that guide him along the way and help him to stay strong as
he searches for his parents and sister.
I will be giving one of my amazing readers a copy of the Tooth Fairy 2 on DVD!!!
Mandatory Entry:
Tell me which of the movies that I listed above is a favorite of yours!! Please leave me your email with this entry!!
Extra Entries:
Like my new Facebook page (2 entries)
Google +1 this post (3 entries)
Follow me on Twitter
Tweet About This Giveaway Daily (+1 daily)
Follow me on Facebook
Follow me on Google Friends Connect
Follow me on Networked Blogs
Subscribe to my email
Grab my button and leave the URL to where I may find it (2 entries)
Blog about this giveaway and leave the URL to the post (5 entries)
Leave a comment on any of my non giveaway posts ( 2 entries per post )
Enter any of my other giveaways ( 2 entries per giveaway)
This giveaway is open to US and Canadian residents. This giveaway will end at 11:59 pm on March 10,2012. Winner will be chosen at random.org and will be given 48 hours before another winner will be chosen. All products for reviews and giveaways are given as a sample from the companies. All opinions in reviews I conduct are my own. I was not paid to say anything or review any products.