We are a family who loves to be outdoors. With the summer here, we tend to spend the majority of our time outside. One thing that we love to do when the warm weather is here is camp! When I think of camping I think of the cookouts! Even when we go camping near a lake or river, we still have to try and keep our food cold until we are ready to use it. Well, when it comes to finding coolers to take on our camping trips, we shop for Igloo products. Recently we were sent he Igloo MaxCold Island Breeze 50 Roller to review. This cooler came just in time for the peak of our summer outdoors adventures which also includes our Fathers Day cookout!! One of the features that I just adore about this cooler is the fact that even on those really hot days when we are out and have our cooler packed, our food will remain cold for a couple of days! That is a huge plus, so there is no having to leave camp to buy ice in order to keep our food from spoiling or going out and buying more food. It allows us to enjoy the task at hand, camping and enjoying the outdoors with our kids and not having to worry about the food going bad or who will go and when we should go and get more ice! Since this cooler is a 50 quart cooler, we can pack more and since there is a very convenient handle and wheels on it, this pregnant mama can easily tote this cooler around even when it is fully packed! The fact that I can wheel the cooler around with ease will make this Fourth of July outing a easy one for us!!!!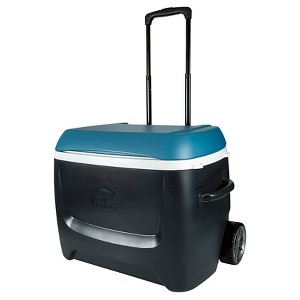 Here are the specs of this great cooler:

Cool Riser Technology™

MaxCold insulated cooler body & lid for extended cooling performance

Wide grip push-button & locking telescoping handle

Integrated lid tie-down loops

Oversized soft-ride sport wheels

Grab-through side cooler handles

5 day cooling
This Summer when you are looking for that perfect cooler to use, then check out the Igloo MaxCold Island Breeze 50 Roller which you can find at Target!!!
This was not a paid post and honest/original opinions were used and they are my own. Thank you to the company and/or pr agency who supplied the product for review.