I love a good comfy slipper, especially while I am pregnant! Recently I was sent a very comfortable pair of house slippers that are like walking on a cloud! I was sent a pair of the Lovesac Phur Slippers to review. The material that the slippers are made from are not fur, but they are made from a hypoallergenic polyester knit that makes these slippers feel amazing on your feet and also provide your feet with warmth as well!
I find that having that perfect pair of slippers to be a must have. I am the type, while I am pregnant, that will wear slippers around the house all day. I dont usually, but if my feet are so swollen that my other shoes are not going to fit, I will even wear my slippers out while running errands. I love the Lovesac Phur Slippers and if you are looking for a great pair of slippers for yourself or to get someone as a gift then check out the Lovesac Phur Slippers that you can purchase in several different colors!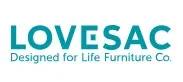 This was not a paid post and honest/original opinions were used and they are my own. Thank you to the company and/or pr agency who supplied the product for review.