We are a family who loves being outdoors and one passion that we have is camping! We love camping and every year we try to spend much of our down time outdoors, camping with the kids. I find spending time outdoors with our kids to be very important, it gives them as well as ourselves, an appreciation of nature and our surroundings. It also gives my kids a chance to be adventurous and explore! Well as many of you know, we will soon be adding another little explorer to our family. Wyatt will be here soon and just like our other two kids, we will be including him in our outdoor outings which includes camping! On top of the camping and day trips that we love to take, we will also have plenty outings to the local parks, the lake, and in the Fall there will be lots of fun sporting events that the older two kids will be involved in! With that said, Wyatt will still be on a schedule. Sure this Fall he will be too small to enjoy eating baby food while we are out, but come Spring he will be ready to start that adventure in trying new baby foods! With that said, we were recently sent a product that will really come in handy for us when we have Wyatt out with the family. We were sent the Ciao! Baby Portable High Chair!!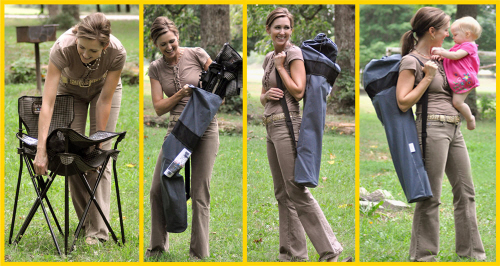 I love how practical this high chair is. I mean, this is something that I wish we would have had with our older two kids! Not only is this portable high chair perfect for taking with us when we are dinning outdoors, but it will be perfect to take with us when we go to visit my parents as well!! The Ciao! Baby Portable High Chair is very portable, and very easy to set up and take back down then place back in the carrier bag! We love having our camping chairs when we are either camping or spending time outside, and this high chair is just as easy to set up and take back down as our portable camping chairs are! I also love how easy clean up is, I can easily wipe down baby and the chair after enjoying a great outdoors meal! Another thing that I find to be a great feature is the cup holder, we have our cup holders in our camping chairs, which is very handy, and having one for the baby to use in his own camping chair is the way to go! Not only will Wyatt be able to use this for dinning outdoors, but he will also be able to enjoy being a part of the group when we all sit around in our camping chairs talking and enjoying the fresh air! Well the wonderful people from Ciao! Baby would like to give one of my amazing readers their own Ciao! Baby Portable High Chair!!!
Mandatory Entry:
Take a look at the Ciao! Baby site and tell me something you learned, either about the chair or the company! Please leave me your email with this entry!!!
Extra Entries:
Like Ciao! Baby Chair on Facebook (2 entries)
Like my new Facebook page (2 entries)
Share this post on your Facebook (2 entries)
Follow me on Pinterest
Repin one of the photos from this post!
Follow me on Google + (2 entries)
Google +1 this post (3 entries)
Follow me on Twitter
Tweet About This Giveaway Daily (+1 daily)
Follow me on Facebook
Follow me on Google Friends Connect
Follow me on Networked Blogs
Subscribe to my email
Grab my button and leave the URL to where I may find it (2 entries)
Blog about this giveaway and leave the URL to the post (5 entries)
Leave a comment on any of my non giveaway posts ( 2 entries per post )
Enter any of my other giveaways ( 2 entries per giveaway)
Grab the Preparing for Baby button and leave the url to where I might find it! (5 entries)
This giveaway is open to US residents. This giveaway will end at 11:59 pm on July 31,2012. Winner will be chosen at random.org and will be given 48 hours before another winner will be chosen. All products for reviews and giveaways are given as a sample from the companies. All opinions in reviews I conduct are my own. I was not paid to say anything or review any products.