The kids are getting ready for back to school season. Whether they are the kids under age 18 or the kids that are ready for the big adventure into the world and heading off to college, it is that time of year. Well I know that in our home, we all have our own tech devices, and we all know which product belongs to who because we all have different styles. For example, when it comes to the mice that we use for our computers, we love getting the great designs from Logitech, so that we can each show off our style!
With the kids big and little, they also want to show off their styles, to be individuals and different from others. Well this year, Logitech has launched a new line of great wireless computer mice and keyboards, that are all very stylish. That way when you go back to school shopping and your kids are all wanting different styles but needing the same product, Logitech has a selection of multiple colors and designs, so that everyone can find their style! I was sent a mouse and keyboard from the new Global Graffiti Color Collection. With the kids, we have a desktop that they use to play games on, and even though they share the computer right now, they still want their own mice and keyboards to use when they are on. It makes them feel special. I love having the wireless keyboards and mice for our computers and when we were sent the very adorable Pandy Candy, I knew that this mouse would be perfect for my daughter, and my son could take the one that we had been using for himself. Then for the keyboard, my son was able to get the Glossy Black and Ink Gears, so that he could have his own keyboard as well and my daughter could put claim on the keyboard that we had already. In all, my kids will be set when going on the computer to their favorite gaming and educational fun sites this school year, and they will each be happy now that they have a keyboard and a mouse that show their style off!! Well to prepare my readers for back to school this year, the wonderful people from Logitech would like to give one of my amazing readers their own products from the new Global Graffiti Color Collection!!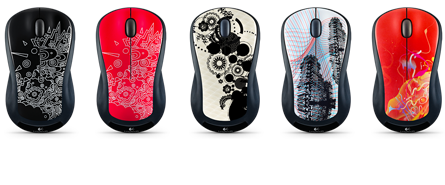 This was not a paid post and honest/original opinions were used and they are my own. Thank you to the company and/or pr agency who supplied the product for review and giveaway. This giveaway is only open to US residents.