Product Received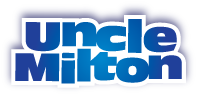 Just like most kids out there, my son Robert loves the summer. From the fun in the sun to the big fireworks show on the fourth of July. Even though school is getting ready to start up here in just a few weeks, I still want him to remember all of the fun he had. Recently I was sent some toys from Uncle Milton that are perfect for keeping those fun summer memories, like the 4th of July, fresh in his mind. To start off with, I was sent the Grand Finale! Light Show for review. With this great set up, we can put on our very own fireworks show in Robert's room anytime we want! Both he and Estrella can enjoy the 5 colorful fireworks cones that are included in this set. With the bright LED lights and 150 launch combinations, we can set up an extravagant light show on any given night, right in our home! The master controller lights up, and your kids can have a blast with the lights and the awesome sound effects. Get the Grand Finale Light Show today so that you and your kids can have a grand finale fireworks show from the comfort of your own home anytime!!
Aside from the awesome light show, Robert was also sent the Iron Man Repulsor Ray Tech Lab. I find this to be a great toy, because even when the summer comes to a end, the imagination and creativity from all of the pretend play does not have to end. With this great set, Robert and his friends can master the Repulsor Ray Force just like the one that Iron Man has that is powered by Iron Man's Arc Reactor! Robert can pretend to have super powers just like a real super hero and suspend the sphere in mid air with the powerful airflow force which suspends the ball into mid air! Robert can put this on the table or hold it, he can also practice in the dark and challenge himself with the 3 different obstacles! So if you have a little super hero in your house that needs some cool super hero tools and wants some super hero training, then get them the Marvel Science, Repulsor Ray Tech Lab from Uncle Milton today!


This was not a paid post and honest/original opinions were used and they are my own. Thank you to the company and/or pr agency who supplied the product for review.