Products Received
I enjoy the holidays, from the family gatherings to the gift giving, I find it all to be so exciting and heartwarming. Like many other parents out there, I seem to see more and more of those As Seen On TV items, the ones that the kids say they want, and with the holiday shopping season upon us, I like to take a closer look at those products so that I can find the ones that I will give to the kids and others this holiday season! Well recently I was sent a pack of amazing As Seen On TV products from Ideavillage to review.
Of the pack of As Seen On TV products I was sent to review were those adorable Stompeez. Stompeez are very adorable, soft slippers that are full of personality. From the Perky Pink Puppies to the Growling Dragon, you can find a pair for each of the kids. As your kids walk around in their Stompeez, they pop up, either their eyes, ears or mouths pop, and your kids find it tons of fun to walk and stomp around.
When it comes to the Ice Cream Magic, you and your kids will find making ice cream at home can be fun and easy. In fact, you can make a serving of ice cream in about 3 minutes, by following the 3 simple steps. These steps are adding the ice, water, and salt, then adding the cream and flavor, and shaking the Ice Cream Magic Maker for about 3 minutes to get some fresh, delicious ice cream every time!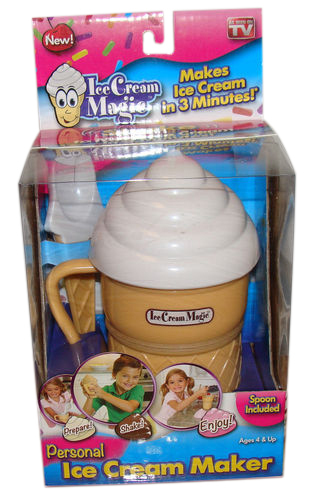 For the artist or glam diva in the family, the Shimmer Body Art Glitter Tattoos are the ideal gift. The set comes with several templates as well as colors and easy instructions to follow. These are both fun for sporting events and even slumber parties with the girls! We have found these temporary tattoos to be a lot of fun, and they are unlike other tattoos that we have used, they are shimmery and they stand out!
Then when it comes to bed times, I know that my kids enjoy having a night light in the room, but with Estrella she likes to act like she is too old for the night lights, so giving older kids like herself the Bright Light Pillow is ideal. Not only does it make for a soft pillow to sleep with, but it lights up. It uses LED lights, so it does not get hot and does not burn. I also appreciate that this light up pillow will work for hundreds of hours, giving Estrella lots of time for those nights when she might want a night light, but does not want to admit to it.
In all, we found the products we were sent in the pack of goodies from Ideavillage to be fun and ideal gifts to give this holiday season. Well, to help with some of that holiday shopping this year, the wonderful people from Ideavillage would like to send one of my amazing readers their own pack of goodies!
This was not a paid post and honest/original opinions were used and they are my own. Thank you to the company and/or pr agency who supplied the product for review.