Product Received
With Christmas quickly approaching and the New Year right behind the big day, I find joy in insuring that any guests who might come by the house, can enjoy the decorations that I put up. I think one way to really get that response that some of us look for when it comes to decor, is having fresh floral arrangements for everyone to enjoy! One place that I like to find floral arrangements at for any occasion is 1-800-Flowers.com. There, I can find a variety of floral arrangements and gifts, and I can also have them delivered to my own home or to the recipient of my choice. Well since Christmas is literally around the corner, I was sent a great arrangement to review.
I chose to go with the Holiday Flower Tree for many reasons. As with other holidays, we all have our traditions. When it came to the holidays with my grandparents, they always went all out when it came to decorating and making their home stand out. Since their passing, my mom has continued with the holiday tradition of trying to make her home look extravagant. From the tradition of having that center piece that stands out at both the Thanksgiving table and Christmas table, to the beautiful holiday arrangements that she places around the home. One decoration that I can remember my grandma always putting out on the Christmas table was this musical Christmas Tree. It was all decorated with playful elves and other ornaments and as we waited at the table for the meal to be brought out, my grandfather would wind up the tree for the kids to watch as it played music and spun around. This is a tree that my grandparents had put out every year, and my mom now has the tree, but as the years have taken their toll on it, it no longer spins correctly when the music is played. So instead of putting it on the table each year for the kids to look at, my mom has it on top of the piano, so it can not be damaged by curious little hands. Now I have searched for a tree similar to give my parents to put on the table, but I have yet to find it. Well when I was asked to do the review on a arrangement from 1-800-Flowers, and I saw the Holiday Flower Tree, I knew that I had found an arrangement that would be worthy of placing on our holiday dinner table this year.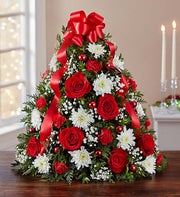 In fact, I not only found this beautiful tree with red carnations, roses and candy canes, but I found a few other arrangements that would also make great fits for placing around my parents house this year! This year, I found the Winter Wonderland arrangement to be one of the other pieces that would look amazing in my parents home. With the many pieces to choose from, we will not only be able to celebrate our Christmas this year with 1-800-Flowers, but we can continue with the celebrations by adding other holiday pieces that will look great for the New Years celebrations as well! So as you are making your final preparations for the holidays, whether if you are looking for that one piece to stand out for your guests to see, or if you are looking for a gift to send that someone special, be sure to check out the amazing arrangements available at 1-800-Flowers.com and enjoy the holiday season!!! Well to help with your own celebrations, the wonderful people from 1-800-Flowers.com would like to give one of my amazing readers!!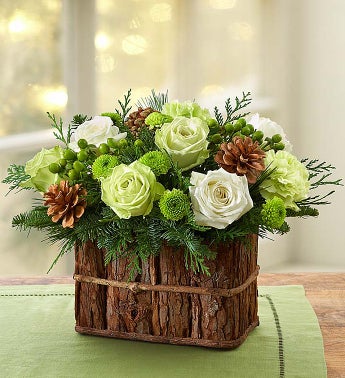 This was not a paid post and honest/original opinions were used and they are my own. Thank you to the company and/or pr agency who supplied the product for review.