Product Received
With the holidays approaching quickly, and all of the shopping that needs to be done, assuring that you get everyone on your list just what they want is ideal. In our family we have a variety of talents, from actors and artists to musicians, and when it comes to the holiday shopping, I keep these things in mind. This past Fathers Day, I had the chance to review a Kicker iKick stereo for my husband. Knowing the sound clarity and the features that the Kicker we were sent had, I found myself excited and curious to check out the Kicker Amphitheater Bluetooth that I was sent for the holidays!
With having many in the family who appreciate the arts and music, I found that having a home system like the Kicker Amphitheater Bluetooth, would make a great gift for many on my list. For example, my dad is a man of many talents, from writing to theater and even art and music, and when it comes to his music, he still plays his favorite tunes on a system that he has had since his college days. So not only getting a few of these Kicker Amphitheater Bluetooth systems for some of the music lovers in my family, but also getting one for my dad to bring him into the times and show him a new appreciation for the music he loves, will really prove to make for some great gifts this year! With this great home audio system, not only does it put out an amazing sound quality that is unlike other home systems, but with the compact design that does not take up a whole lot of space, my dad can finally put his enormous speakers from his retro stereo system to rest and maybe even in a museum, lol. My dad will even be able to finally really appreciate his iPod that we had gotten him so that he could put his favorite music on a compact device for him to listen to his music just about anywhere!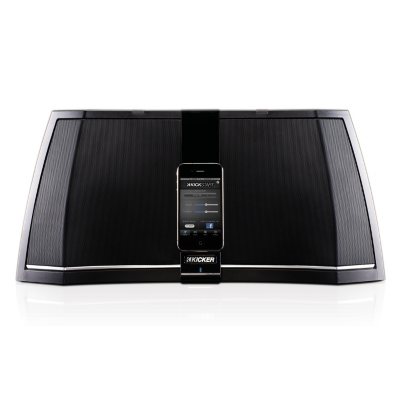 Aside from the sound quality and the design, I like that we can stream music from any Bluetooth device. I also like that when we give this system to the others on our list this holiday season, who have the different Apple devices, they can easily dock their devices, from a range of the iPod, iPhone and iPad models! I really like that there is a app that can downloaded so that the music and sound can be customized when we download the KickStart App! One of the features that my husband really likes and that I know others will too is the 6″ subwoofer that is on the back, which delivers an amazing bass response. You also get the 5″ speakers and 3/4″ tweeters, giving your room a full range sound quality! With my dad being older and having his issues with getting up and down, he does not have to worry about having to manually change the sound levels, instead he can do it right from his chair with the remote that is included with this amazing system. My dad can also plug in his CD player if he wants by taking advantage of the Aux-in. There is even a USB port on this amazing stereo, so that you can charge external devices if needed. In all, I know that after checking out the Kicker Amphitheater Bluetooth, my dad as well as the others on our list who have a appreciation for music, will really enjoy having this great system in their own homes! So this holiday season, while you are looking for that gift to give those music lovers on your list, stop looking and get them the Kicker Amphitheater Bluetooth today!
Be sure to follow KICKER Audio on Pinterest!
This was not a paid post and honest/original opinions were used and they are my own. Thank you to the company and/or pr agency who supplied the product for review.