This is a sponsored post, all opinions are my own.
When you are planning a wedding, there is a lot to consider, and one of the biggest things to cover is the ring you will be exchanging with your soon to be spouse. I can remember planning my wedding, and my husband and I went to a jeweler to have custom rings made. I found the custom route to be the way for us to go, it made the rings that we presented to one another, more personal and original, making them our own. Well recently, my baby sister got engaged, and with her, she is not only my little sister, but she is also my best friend. So planning the wedding is something that is not only a big deal for her, but I see it to be a big deal for me as well, as she did with my wedding. There are so many things to do between now and the big day, but one thing that is something that she is working on now, is finding the rings that she and her fiance will exchange. My sister really liked the customization idea that my husband and I did with our rings, so when she came to me asking how to go about finding those perfect rings, I told her to take a look at Anjolee. Since my sister lives in California and I live in Texas, getting together to find things for the wedding and collaborating is something we have turned to the internet for, and when we both go to the Anjolee site during one of our phone shopping conferences with one another, we can view the rings she likes, then choose to customize any design, together!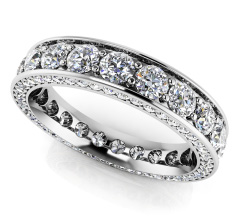 My sister wants to find wedding bands for both herself and her soon to be husband, that coordinate with her engagement ring, and one such ring that caught her eyes was the Brilliant Eternity Ring With Side Stones! After looking over this ring, my sister liked that she could go on and then personalize her ring. First she can choose the metal that she wants, then choose the carat weight. From there, she can choose her diamond quality as well as the size she will need and even add some engraving if she wants! Since she is very particular about things, especially when it comes to her wedding, she found a couple of rings that she liked on the Anjolee site that would look great with her engagement ring, and since her fiance will be the one purchasing her ring, she liked that there were a few choices that she could add to the list of rings she would like on the Anjolee site! Aside from finding the perfect ring, my sister also found some great diamond bracelet designs that will go great with her jewelry ensemble for the big day! So if you are planning your own wedding, and you are looking for that perfect engagement ring that can be personalized for you, then head on over to Anjolee today, and find your ring today!
This post was sponsored by Anjolee.com, all opinions are my own. Thank you to the sponsor!