Tomorrow is the big day for our kids, the day they get up early, say goodbye to summer vacation, and hello to the new school year. As a parent, I want to ensure that my kids have the items they will need to help make that new school year go off without a hitch. One way I have found to help with making that new school year more exciting for the kids is by having items that are personalized, making them unique to them, and a one of a kind. With Estrella having a unique name, when we personalize things, she finds that it makes things that much more unique since she is the only one in her school with the name of Estrella.
Well this year, when we take the kids back to school, to see all of their old friends, meet new ones, and take on the new school year, Estrella will be heading back with a backpack that is not only very cute and fashionable, but one that is personalized from the Personalization Mall!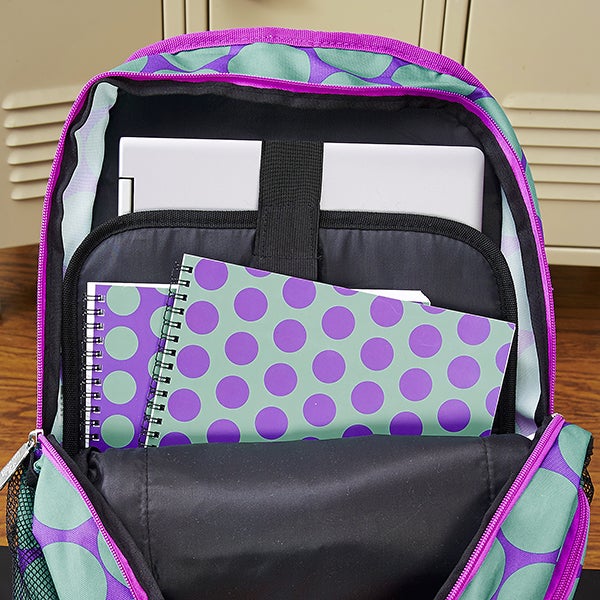 With the Trendy Polka Dots Embroidered Comfort Backpack, not only does it make a very sassy and trendy statement, but it will also help to provide comfort with the padded straps, and hold all of her things with all of the room that is in this bag. I like that there are places in the inner compartment that will help with holding her pens and such, and Estrella likes that there is a padded laptop compartment, so if needed, she can carry her laptop to school or after school to a friends house for studying, with the 2 zippered compartments.
I also like that there is a highly reflective band on it, which will come in handy anytime the lighting outside is not so favorable, like in the early mornings when she has choir practice. And with the fact that we can get coordinating school supplies to match her backpack, makes this backpack from the Personalization Mall one that will help make this new school year for Estrella, another good one to add to the books!


Product received, thank you to Personalization Mall for supplying me with a product for this review, all opinions are my own.