With a new baby, they say, that when baby is asleep, that is when mom should try to sleep as well. The thing is, with a new baby, there are many concerns that might go through a new parents mind, like is baby warm enough, are they staying asleep, will I hear them if they wake, and more, so as a parent who has had a few of her own babies, I like to keep an eye out for products that will help with not only getting baby to sleep, but also give parents a piece of mind so they too can get some sleep. Recently I was sent such a product when I was sent the DECT Audio Baby Monitor to review from Philips AVENT.
This monitor offers both support for parents, where mom and dad can hear baby clearly, monitor the temperature in babies room, talk back mode, melodies and more!. With the talk back mode, parents can soothe baby by just speaking to baby to assure them mom and dad are not far from them. Also, when it comes to the soothing aspect that this monitor offers, parents can set the lullabies to play and let baby drift away to sleep with the 5 different soothing songs.
When baby does wake up, even if mom and dad have the parent unit on mute, the LED lights light up as noises are detected in babies room. The monitor also allows parents to move about the house, with a range of 50 meters indoors and 330 meters outdoors. With the temperature monitoring that this monitor offers, parents can make sure the babies room is also at the right temperature as baby sleeps, since babies can not regulate their temperature like adults can.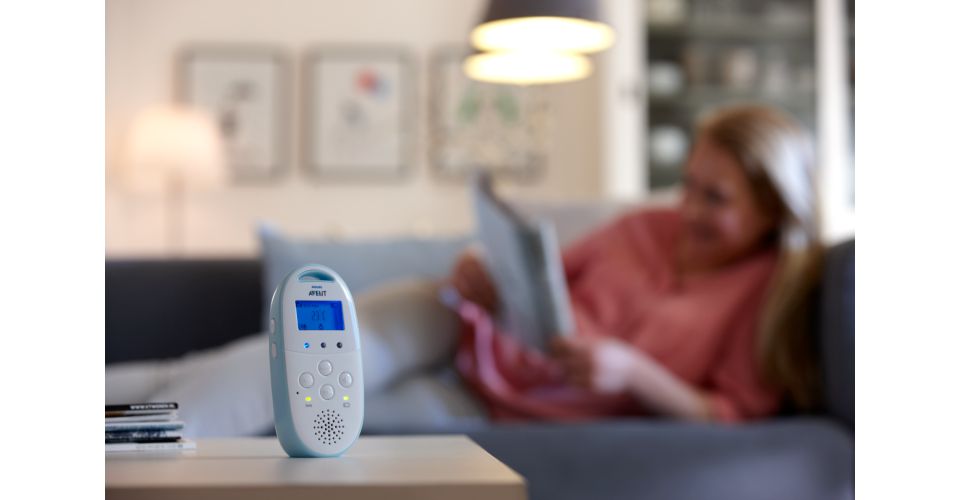 Then with the DECT Technology, parents can feel more at ease using this monitor knowing that they will not get any interference from any other products like other baby monitors, and knowing that the data encryption that this monitor has, provides a safe and secure connection, so that no one else can listen in on baby. In all, making the DECT Audio Baby Monitor from Philips AVENT a product to add to that must have list when preparing for baby!
Product received, thank you to Philips AVENT for supplying me with a product for this review, all opinions are my own.