Tomorrow is Valentine's Day, and in my house that means it is date night for my husband and I while the kids enjoy some pizza and a movie with the sitter. With that said, along with the movie night that the kids are excited to share with their favorite sitter, we will also be sharing valentines. So when we were sent the new movie, Wonder on Blu-Ray to review along with a pack of valentine themed goodies to share with the kids, we were excited to check it all out!
In this movie, we get an amazing, heartfelt family movie that is not only a great one for sharing on Valentine's Day, but one to add to our family movie night line up. This movie is one where you have a little boy who is born a little different than others, but regardless, finds beauty from within others and inspires others to do the same. The little boy comes to a age where he is ready to go to school for the first time, and on his journey to make new friends he brings others together as he goes on to prove that you can't blend in when you are born to stand out!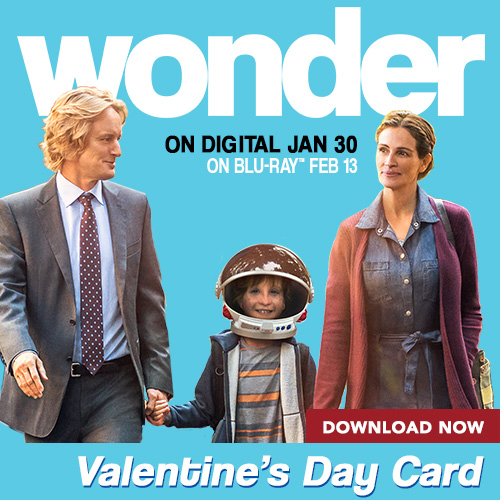 We found the movie along with the Valentine's Day themed cards and goodies to be a great addition for adding to our Valentine's Day, and you can too when you head out today to pick up your copy of Wonder and download the free Valentine's Day card above!
Product received, thank you to Lionsgate as well as the PR for supplying me with a product for this review, all opinions are my own.