Talk about getting lucky: right after we had a chance to watch and review the DVD for the new Claymation movie from Lionsgate Early Man, we had the opportunity to receive a stop motion Claymation kit and create a movie of our own. How cool was that! So we obviously said yes and eagerly looked forward to getting the kit. Claymation, for those fuzzy on the meaning, is a method of animation in which little figures and backgrounds are made from clay and then are filmed using stop-motion photography, i.e. taking a picture for each action and then piecing all the pictures together to create a movie.
As soon as the kit arrived the family, adults and kids alike, got together to open it up and start planning our movie. The kit includes creature-creating clay, a miniature stage, interchangeable backdrops, props, detailed guidebook, and a phone stand. The last ingredient is to download a stop-motion app on your app (of which there are many on the app store), and you are good to go.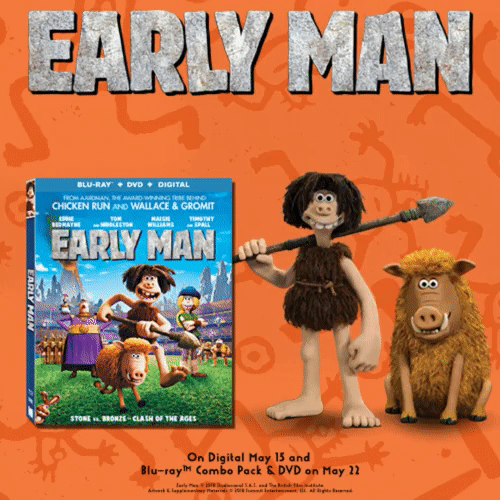 Now if you have see the movie (and we recommend that you do), one of the most entertaining characters is Hognob, a smart pig that's the movie hero's best friend and pet. The kids loved Hognob and we were happy to learn that Lionsgate has put together an instructional video with the film's stars Eddie Redmayne, Tom Hiddleston and Maisie Williams with Aardman's very own Jim Parkyn about how to make our very own Hognob.
We very soon lost control of the Claymation video project to our 4 and 7-yr old boys and they had a blast working together to plan, create and shoot their own stop-motion video. While the final product was short and a little crude, it took over an hour of work (I would call it hard work if it wasn't so much fun!) to put it together. We totally plan on creating more Claymation masterpieces together soon.
We would highly recommend trying out the kit yourself and creating your own Claymation movies. The whole family can get their hands 'dirty' and have fun unleashing your inner animators! On that note, our friends at Lionsgate are giving away a Blu-Ray/DVD copy of the movie and the Claymation Kit to one of our fabulous readers:


Product received, thank you to Lionsgate as well as the PR for supplying us with a product for this review, all opinions are our own.