If you are like us, you know that no matter how slick the technology, there are some experiences that are just better the old-fashioned way. We have already written about our preference for reading some documents when printed out on quality paper with a good printer. We can also add writing and drawing on real-life paper to the list of activities that we aren't ready to completely replace with digital alternatives just yet. While it is certainly true that there are many instances where text is better communicated through a keyboard or touchscreen (e.g. online chats or creating a project presentation), handwriting has some unique benefits that are hard to replicate digitally. According to a study in the journal of the Association of Psychological Science, using pen and paper, not laptops, to take notes actually boosts memory and the ability to retain and understand concepts. However, sometimes we admit we struggle with actually finding and organizing all those notes we've taken!
Now the innovative team at Royole has combined the best of both the physical and digital worlds into their new RoWrite Smart Writing Pad. The RoWrite is a smart notepad folio where everything you write is seemingly magically transformed into digital format. The technology is obviously wicked cool – you simply write on a paper notepad with the provided pressure-sensing ballpoint pen, and everything you write is captured digitally through the highly-accurate flexible sensor surface underneath the notepad.
We were a little skeptical since we've tried some similar tools in the past with somewhat disappointing results. Nonetheless, we strapped on our thinking caps and gave it a whirl. Using the provided pen and notepad felt no different than using their analog cousins. We were able to write and draw naturally, and the pen strokes forming our notes and images (a.k.a doodles) were captured digitally and stored on the pen itself. Once we opened the free smartphone app and synchronized the data (a simple push of a button), all our words and images were available in the app as well. The app even lets you view a 'video' of the each sequential pen stroke, which is pretty fun!
Although you can capture your pen strokes and download them into the app later (which surely has its uses), it was also really cool to have the app open and the phone paired through Bluetooth(™) with the notepad while you write and see your words and drawings appear simultaneously on the phone screen. The RoWrite app has a ton of features, and any handwritten content that is stored digitally (on the pen, or in the cloud through the phone app) can easily be edited and organized in the app, and even shared with someone else or exported to your favorite cloud storage service. One feature, in our opinion, deserves special recognition. We were absolutely amazed by the RoWrite app's accuracy in converting our handwritten words to digital text with just a push of a button. Turning our chicken scratch into searchable, saveable digital text seemed impossible, but the RoWrite app got almost every letter right each time we tested it. The list of features available in the app is already growing as well. The company has also pushed out a new app update recently that added the option for using different languages. We haven't played much with that yet, but we're looking forward to testing it out with our son as he returns to his French Immersion classroom this fall!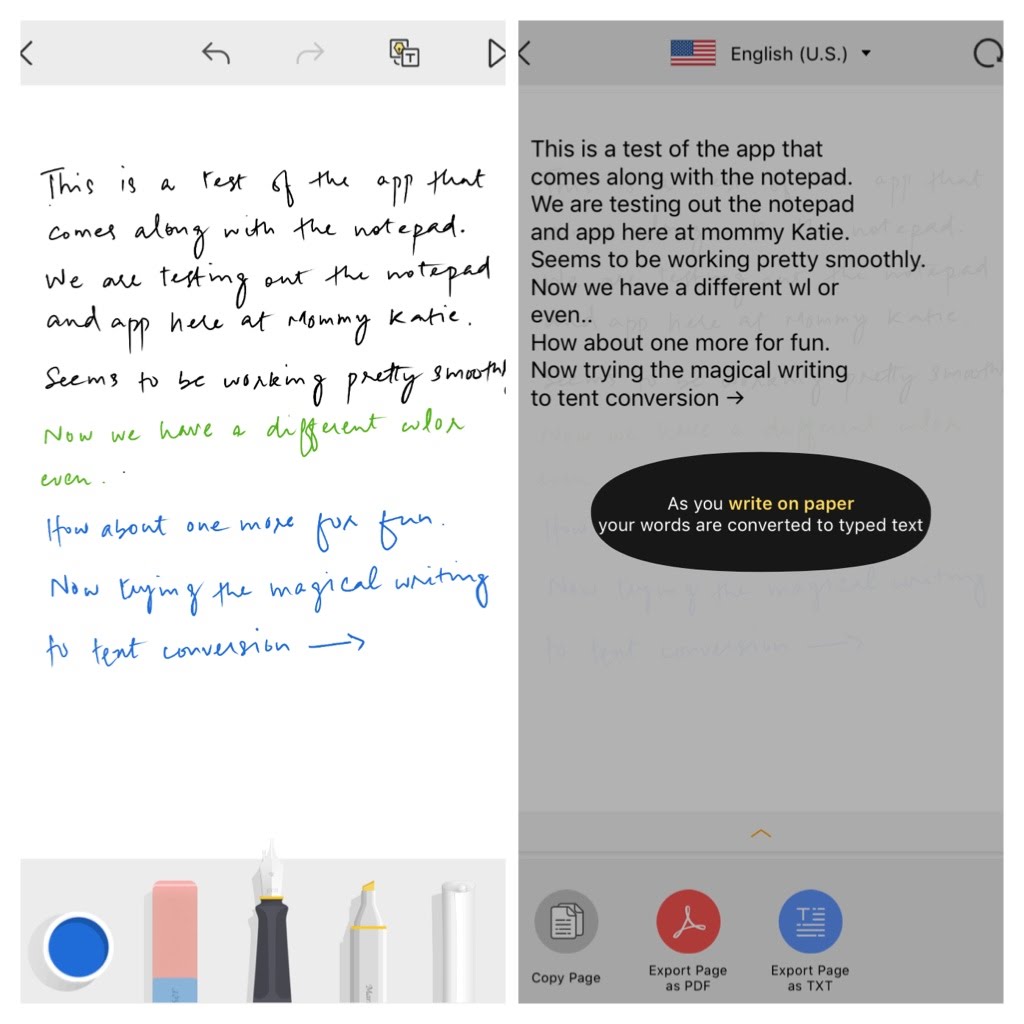 Ok, the app is cool, you get it, right? What about the whole experience? A sexy app is one thing, but do you need an IT degree to make it all work? We've all been frustrated with the trials and tribulations of pairing Bluetooth(™) devices, so we wanted to test out the ease of pairing with our devices and quality of the connection. The RoWrite came up aces on both counts: quick pairing and a consistent connection whenever we used the app. The pen, notepad and app are pretty simple and intuitive to use, and we appreciated the short learning curve. The smartphone app is available for both iOS and Android and worked easily on all our existing devices. The RoWrite Smart Writing Pad does, like all electronic devices, need to be charged (using a mini-USB charger) in order to work, but a fully charged RoWrite is claimed to operate continuously for 8 hours, and with Sleep or Standby, the rechargeable battery should last for several weeks. All in all, we will admit the RoWrite system is pretty high on the 'cool' scale for us.
The folio itself is a high quality cloth material and is about the same size and weight as many traditional folios using legal pads (about 8.5 x 11 inches outer dimensions), although one downside for some may be that it only uses 'A5' paper (5.8 x 8.3 inches) which is not a standard paper size for most US applications. This is not only limited by the size of the paper you use in the folio, but also by the size of the sensor under the paper (so you couldn't swap in a larger size paper). The RoWrite Smart Writing Pad also seems to be pretty reasonable to maintain over time, with replacement parts easily available on the RoWrite website at reasonable prices. The pen uses easily replaceable D1 mini ballpoint ink cartridges and a AAAA (yup, that is a quadruple-A) battery that, though not currently found in my drawer of spare batteries, is easily and cheaply available. The recommended refill A5-size notepads are also available from RoWrite in lined, grid and blank formats at about $15 for ten 20-page pads. Replacing the RoWrite pen would be a spendier proposition at about $50, so that would be one thing you'd probably want to take good care of. The app is currently available for free.
So, who will benefit from the RoWrite system the most and is it worth the $100+ price tag? We can see the RoWrite Smart Writing Pad being useful for students who prefer to take notes by hand (remember that APS study re: handwritten notes improving memory and retention?) but who would benefit from having a digital version to edit, organize and share later. Similarly, it could work well for professionals who enjoy using pen and paper for creative output or in situations where clacking away at a keyboard may not work too well (in our company, our sales reps would love to use this to easily transfer their written notes into our CRM system or follow up emails). This would be an especially unique and useful gift (of course awesome for the back-to-college crew, but it's not too early to be thinking about Christmas gifts for the gadget lover or even gifts for those new graduates heading out into the working world!).
Just in time for the start of the school year, the RoWrite is currently offering a promotion where it is $20 off its regular price of $129, with the promotion running through Aug 31st. In addition, one of our readers gets the opportunity to win one of the RoWrite's by entering in the giveaway below:
Product received, thank you to Royole for supplying us with a product for this review and giveaway, all opinions are our own.