Like it or not, summer just keeps barreling on and now that August has started, parents all over the country are starting to plan for the start of the new school year. Once we all get past the shock of how fast summer seems to zip by, this is the time when shopping for back-to-school items swings into top gear. While more and more electronics and gadgets seem to be showing up on back-to-school lists, there are certain basic essentials that we still rely on. Needs and tastes may change through the years, but having the right writing or coloring tools (pens, pencils, crayons), the right paper surface to write or print on (notebooks, loose paper, printer paper), and the right binder/files to help keep everything organized is on every back-to-school list you come across.
Speaking of paper, we all know by now that the rumors about the 'death of paper' circulating over the past couple of decades have turned out to be more than a little exaggerated. While the proliferation of digital devices like smartphones has changed how and when people use paper, there are still many occasions in which paper comes in mighty handy, especially for quickly writing down notes or printing text or pictures – for home, office or school use. In our family, we find numerous school or other forms we have needed to print out and complete, long documents that we prefer to print out and take our time to leisurely read (and take margin notes!) as we relax on the deck in our favorite chaise lounges, and of course the school (or office) project reports that need to "dress to impress" by being impeccably presented, printed and bound, to our exacting standards.
We've learned that even a good home printer can give poor results if stocked with low-quality paper. When it comes to quality printing paper, few companies have been doing it for as long as Boise Paper and after getting a chance to use the Boise POLARIS® Premium Multipurpose paper and Boise FIREWORX Premium Colored paper, we can say they deserve their sterling reputation for delivering quality products. Both paper brands are both made in the U.S.A. and certified by the Forest Steward Council® (FSC) – meaning they're made from wood fibers that come from sustainably-managed forests. As we purchase the reams of paper we need to send to school with our kids this fall, we definitely prefer having sustainable paper choices like these!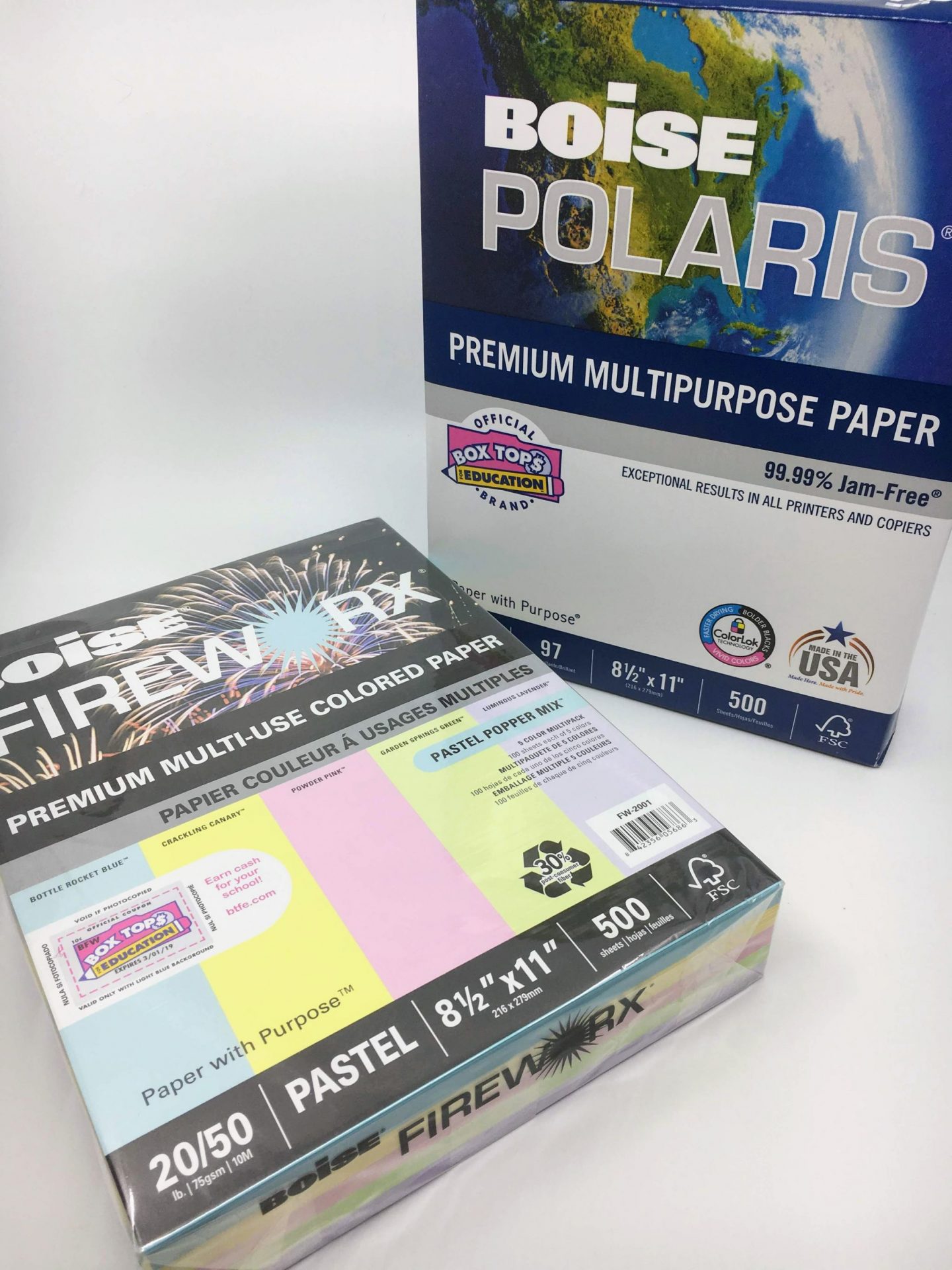 The Boise POLARIS Premium Multipurpose paper rings true to its name and is great for general printing tasks when you still want to make a great impression. Its bright, clean white color consistently makes the text look crisp and the pictures to show up clearly with no smudging. They also claim a 99.99% Jam-Free Performance Guarantee (its worked for us so far!) and proprietary ColorLok Technology™ for bright colors. We love having the choice to use 20 lb. paper for everyday printing (perfect for sending to school for kids' classroom supply lists!) or heavier 24 lb. paper for those times we prefer it's more impressive feel.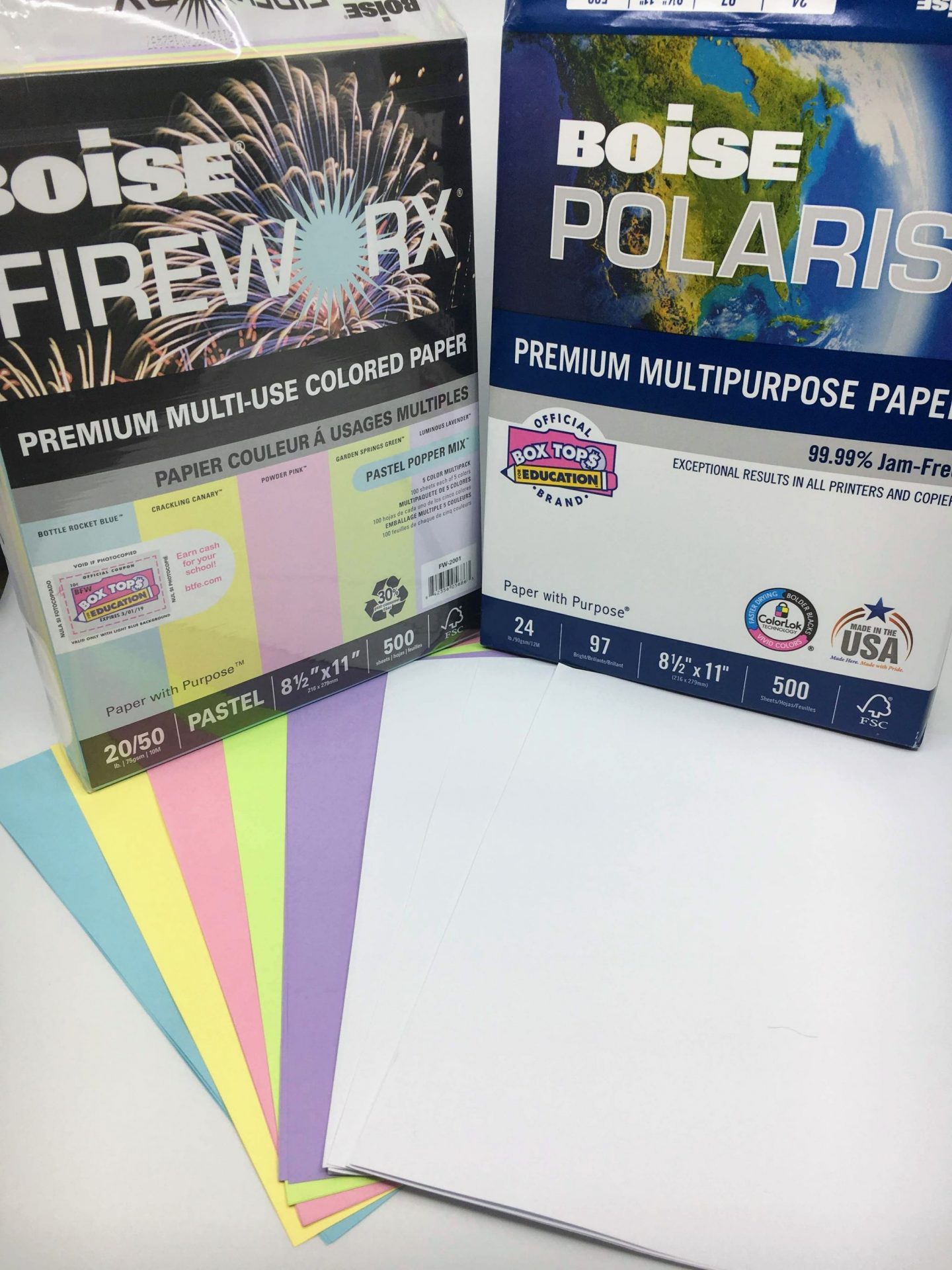 When we really want our print job to stand out, we love the colorful option of using Boise FIREWORX Premium paper. It has the same features as the POLARIS plus it comes in 22 popular colors and contains 30% post-consumer recycled content. It is perfect for eye-catching announcements, bulletins, invitations, signs, forms, and manuals.
As if getting a quality paper product wasn't enough, one added beneficial feature of the quality paper products from Boise Paper is that they are the exclusive office paper partner of the Box Tops for Education™ program. As we all know, the Box Top program has helped participating K-8 schools earn money, close to $900MM since 1996, for supplies, recreational equipment, new technology and much more. Box Tops from specially marked reams of Boise Papers paper products can be redeemed for 10 cents each for your child's school. No wonder they call it Paper with Purpose®.