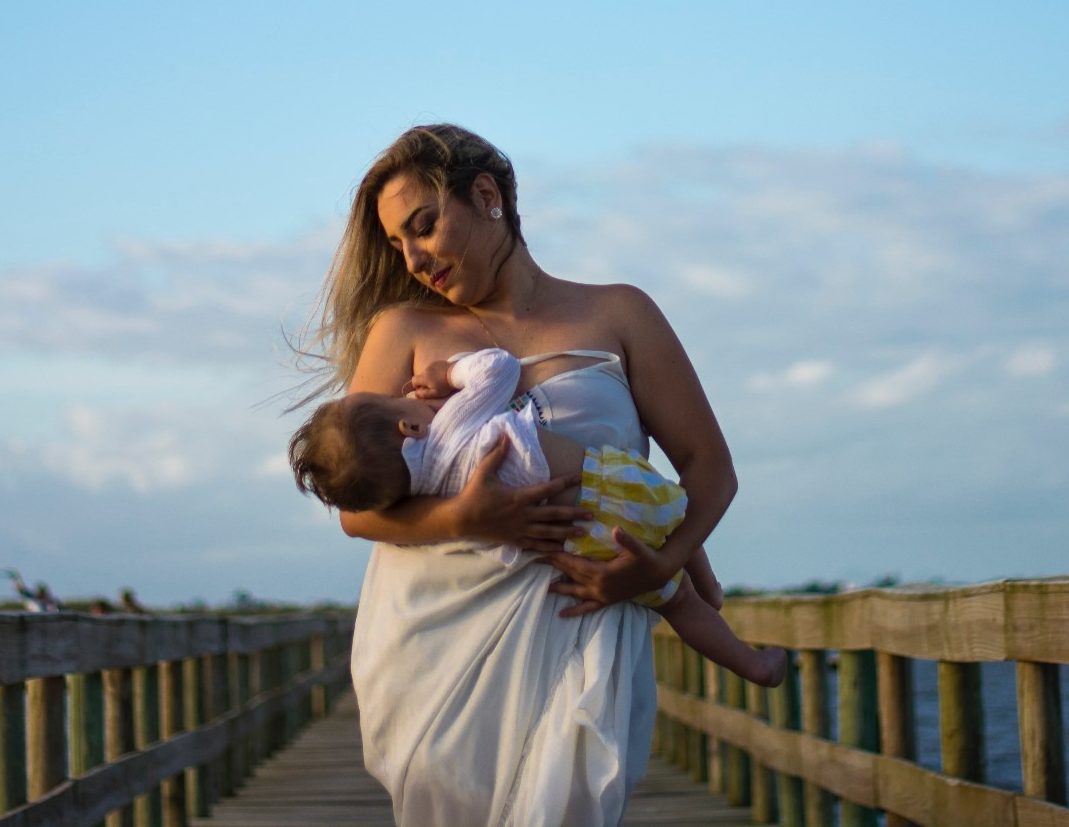 Breastfeeding your child is extremely important. Breastfeeding not only play a vital role in the upbringing of your child; it also helps fight those harmful pathogens that may enter your child's body through food sources. Breastfeeding keeps your child protected and also boosts its immune system. Professionals recommend breastfeeding your child until at least two years of age. This way, you are making your child get enough nourishment and enough strength that he or she needs. It's also worth mentioning that no other milk from any other source can provide the amount of nourishment and the nutrients required for the healthy upbringing of your child.
A child by birth knows how to drink its mother's milk. However, for most mothers, it can be quite a difficult process. It takes a lot of getting used to and once you understand the benefits of breastfeeding and decide that you will stick to breastfeeding your child and not rely on any other sources you can make things much, much easier for yourself.
Breast pumping is a process in which milk from a mother's breast is extracted via a suction pump and is stored in a container so your child can consume it. This mechanical method by far is one of the most commonly used methods for extracting the milk from a mother's breast so it can easily be fed to the child. Many women think that it can be a very painful experience. However, it is rarely painful. You do not have to worry about anything else while engaging in this process. It is entirely safe and easier than feeding the baby directly. However, you must take care of cleanliness because cleanliness is an important aspect of the process. You want to deliver the milk clean to your baby. The whole process may take around 15 to 30 minutes depending upon the types of pumps used, i.e. double pumps or single pumps, manual or electric.
Although I would recommend feeding your child right from the breast itself, especially if she is below six months, it is very important that you do so, but most mothers do not have the time or they have to do certain things like going for jobs or getting the groceries, etc in which case, they are expected to face problems. Breast pumps make situations like these easier to handle as well. If at all possible, breastfeed your child. As far as the question relating whether the pumped milk is as good as breast milk? Sure. You are good to go, but make sure you do it neat and tidy.
Talking about pumps, If you are reading this article to know about the best pumps out there, then I welcome you to the right place because I am about to share the most commonly used top-notch breast pumps of 2019. The Medela Pump In Style Advanced (PISA) and Spectra S2 are the most selected, most commonly used, the most trusted and highly recommended breast pumps over the globe. I will be talking individually about each of these breast pumps and later compare them to see which one will work the best, for whom and why?
Let's get going to find out more.
The Spectra S2 Breastfeeding Pump:
At First Glance: Looking right at it in the first glance, the Spectra s2 Breastfeeding pump looks like an amazing hit with its comfortable design which goes all edgy and beautiful. The light pink color brings out the best in the look of the pump since it makes it so soothing to look at.
As soon as you turn it on, you will notice just how much of a low noise the motor makes and how it is not irritating which means it can easily be used anywhere, especially in the quietest places or even at night when your baby is fast asleep.
The Spectra S2 breastfeeding pump is specially designed to provide your child with an amazingly clean and bacteria free milk. The manufacturer's of this product have spent years trying to research and bring out the best product in the market. It also makes sure that the milk being extracted is extracted in the best natural way possible, which is why it maintains certain pressure levels suitable for bringing both comforts and getting an extraction. The backward flow is something where the manufacturers have invested a lot because providing clean and free of bacteria milk to your baby matters the most. There also is a mini light to help you carry out the breast suction process much easier and with much focus. You can turn this light on in any darker places or at night and smoothly carry out the process.
This pump is designed to be as light as possible so that it is easy to carry anywhere you like at any time. It doesn't matter if you are traveling near or going somewhere far; you can always take the Spectra S2 breast pump with you. It is just one hand away from being carried. Also, let's talk about how easy it is to clean it up. I mean you can clean it without any hesitation, it will not even take most of your time which is what I love about it, so if you are going somewhere or traveling. It will not be something bothering you for a longer period.
Spectra S2 has a maximum suction strength of 250 mmHg which is optimum to bring both comforts as well as carry out efficient suction. It also the ability to be used as a single or double pump; the S2 will no doubt prove to be an amazing asset in your breastfeeding journey.
With the controllable breastfeeding suction speeds, you can choose the speed that is most likely in your favor, to put it in simple words, the one that suits you the best. The suction speed is adjustable in both the let-down as well as in expression mode.
The Spectra quiet pump also includes a timer so you can time it up and do something else meanwhile.
The Spectra S2 is a closed system pump; it means that this pump requires minimum cleaning. The closed pumping system keeps the tubing dry by preventing air flow between the expressed milk and pump tubing while pumping. This helps to protect the breast milk as well as the baby from bacteria, mold, and viruses while pumping.
The Spectra S2 as I said earlier is trusted by many mothers worldwide. It is also trusted by many Registered Nurses and Board-Certified Lactation Consultants in the USA. It is completely safe to use and to purchase. To provide you further satisfaction. I have also included a review section in which both the Spectra s2 and Medela Breastfeeding pumps are rated by the top markets in the USA.
Spectra S2 In the Box:
Looking inside the box of Spectra S2, the Spectra S2 includes
A Spectra S2 Hospital Grade Double/Single Breast Pump
A 12 Volt AC Power Adapter
It Also Includes a Detachable Power Cord Prong
Spectra Wide Neck Bottle
Spectra Backflow Protector
Spectra Duckbill Valve
Spectra Tubing
Flange (2-24mm and 2-28mm)
Spectra S2 The Good:
It is a Closed system which is super convenient.
It provides Hospital Grade Suction and helps out with low milk supply
It is very affordable
Gentle and essentially painless
The process of pumping gives a natural feel
It is not noisy as other pumps
The nightlight allows you to see the display and control in the dark
Light
Spectra S2 The Bad:
Breast shield and flange are a single unit
The bottles are of inferior quality
There is no battery option
Spectra S2 is available on Amazon, Click Here to See
Medela Instyle Breastfeeding Pump:
Medela is the most up level daily used suction pump by many lactating mothers simply because they trust it more than other pumps in the market. It is specially made for those moms who need to pump their milk several times a day. For this reason, it is very portable so that lactating mother can take it from one place to another, as they require, without any hesitation. The overall weight is around 4lbs. It also supports 8AA batteries which makes it work like a wireless unit.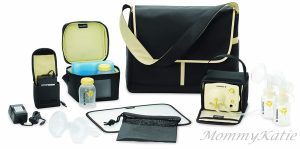 Its 2-Phase Expression technology with a one-touch let-down button produces more milk in a short amount of time when pumping is being done at maximum comfort vacuum in the expression phase.
We all know how most of the moms prefer different speeds and set to carry out the process of suction. This is where the Medela breastfeeding pump gets the most convenient. It has single knob speed/vacuum adjustments for comfortable pump settings.
Let's talk about the cool microfiber bag of Medela Breastfeeding pump. It is just amazing. This removable bag helps to protect the milk in every way possible. It looks stylish, so you do not look dull with it. You can also put in ice packs to keep the milk cool and in one position. It gets a hold of everything that you need for pumping. It is removable as well.
Medela Inside the Box:
The entire box of Medela Instyle Breastfeeding pump includes:
A set of PersonalFit Breast shields that is 24 mm in size.
Two breast shield connectors
Two valves
A set of tubing
One AC adaptor
Instructions for Use
Medela The Good:
It is perfect for traveling since it has a battery adapter
The quality of the accessories is excellent.
The shields and flanges are easy to clean. They are also commonly available.
It comes with many accessories that include an ice pack, four bottles, and a cooler bag.
Medela The Bad:
It is an open system pump which allows milk into the tubing.
The suction is not as great as the hospital grade pumps
The motor is 120 V which means that in most countries you will have to use the battery
Pumping options are a few
It is comparatively Heavier and noisy.
Medela InStyle is available on Amazon, Click Here to See
Spectra S2 Vs Medela Instyle Breastfeeding Pumps Comparison Review:
| | | |
| --- | --- | --- |
| | Spectra s2 | Medela Instyle |
| Night Light | Yes | No |
| Rechargeable Battery | No | Yes |
| Closed System | Yes | No |
| Pumping Speeds | Many | Few |
The Breast Pump Technology, Which to Choose? Spectra Vs Medela
Single or Double Pumps?
Luckily, both Medela and Spectra s2 provide the feature of double pumping which means that you can save much more time.
Convenience:
Spectra S2 breastfeeding pump is much lighter and easy to carry as compared to Medela.
However in terms of portability and ease of you wherever you please. You may need Medela because it has rechargeable batteries which makes it all so much easier. In Spectra S2 Vs. Medela this may be a point to consider.
Closed System?
The Spectra s2 is a closed system which means less cleaning and more time. You will not need to clean things so often as in Medela. The problem of backward flow is solved much better in Spectra s2 as compared to Medela which means the milk is more probable to be much cleaner with Spectra s2. It is yet another strong point to consider in Spectra S2 Vs. Medela.
Suction Speeds:
There are a few suction speeds offered in Medela breastfeeding pump as compared to Spectra s2. The options are many to choose from. It might be a little difficult to get used to Medela since the options are limited.
Health Issues:
Because of the health issues that are there with the Medela Breastfeeding pump, I would highly recommend you use the Spectra s2. It is not only a hospital grade breast pump, but it also is much cleaner since it prevents the backward flow of milk which naturally promotes cleaner environments. The Medela, on the other hand, is an open system pump which means there is a backward flow of milk.
Noise/ Sound Level:
The noise, sound level of Spectra s2 is much slower, that is it is much quieter than Medela which turns out to be a bit loud and noisy. Most moms tend to wake up at nights and carry out this process or may need to do so when they are in quiet places. In such environments, Medela can be disturbing for other people and your baby at night time.
Compliance and Ease:
When it comes to compliance and ease. Both the Medela and Spectra s2 cut. However, the one which is much better at it is the Spectra s2. It is very easy to clean. There is a closed system. It is handy and portable, but it does not offer any rechargeable batteries which is a thing in Medela.
Other Accessories:
The bottles, shields, flanges and other accessories that come with the Medela are super clean and of high-grade quality as compared to the Spectra. Spectra bottles can be an instant turn off because their quality is not so good.
Hospital Grade Breast pump:
If you are looking for a hospital grade breast pump, then focus on nothing other than the Spectra s2 since it is much better than Medela when it comes to this feature.
Reviews By Other Consumers:
Here is what people at the top online stores in the US are saying about these breastfeeding pumps, Spectra and Medela:
The Spectra S2:
3 stars, 1,960 reviews at Amazon.com
8 stars, 468 reviews at Target.com
Medela PISA
6 stars, 36 reviews at Walmart.com
7 stars, 788 reviews at Target.com
4.1 stars, 1352 reviews at Amazon.com
Final Verdict Spectra S2 Vs Medela:
Well, this was it about my guide on breast pumping and explained the difference between Spectra S2 And Medela Instyle Breastfeeding pump. These two breast pumps being the best are always compared to each other since they are both good at what they do and share amazing features that make you think they are the ones. However, not every awesome product is for everyone and that's why I focused on the most practical aspects of each breast pump.
I'm hoping that the Spectra S2 Vs Medela Instyle guide was informative. By now you would have made up your mind about which one of then you want to get.
What Do I Recommend?
Between Medela and Spectra, my recommendation will always be Spectra. Why? Well, it's simple. Spectra is very easy to operate. It is also very gentle to use and gives you a smooth operation, also, due to its closed system design, you get to clean it very easily and with such comforts. It is less time-consuming. I also like how handy it is to hold and easy to operate. It also has an easy to clean designs for consumers convenience so you can pretty much put it in a line for being much convenient than Medela S2. The buttons are also much softer. It delivers a very neat and clean process. The Medela, on the other hand, is portable and has batteries, so there is less hassle, but it is an open system.
I would love to hear about your preferred Breast Pump and Why? Let me know if there's anything you'd like to ask. I'd be glad to help you guys out. Until next time.
Top Photo by Dalila Dalprat