Hey everyone today we are talking baby proofing! They grow up so fast might be a cliche, but it's true. Babies go from that sweet newborn that stays right where you lay them down, to crawling, to a toddler that is into everything they can get their little chubby hands on, in no time. My daughter is fifteen months old and she is getting into something every minute of the day. That's why I jumped at the chance to try out these products from Dreambaby! We will be talking about Baby Proofing Made Easy by Dreambaby [GiveAway]
The Products – Baby Proofing Made Easy by Dreambaby
I got the Adhesive mag locks, the Stroll Away over the door stroller holder, and the Retractable Safety gate and let me tell you I am not disappointed. As a mom of three kiddos I have done my fair share of baby and toddler proofing over the years, everything from simple plug-in covers to the snap in place gates that my son was somehow able to knock over. These are my favorites.
Adhesive Mag Locks for Babyproofing by Dreamboy
The Adhesive Mag Locks are so easy to use. I love that I didn't need a ton of power tools and a degree in engineering to get them installed. It comes with a stick on the template that is simple to use and it lines the locks up for you. All you do is peel and stick the locks in place, making sure to clean the surface of the cabinet or drawer and dry it before sticking the adhesive on it. There is a Youtube video available to watch and it comes with easy to follow instructions. It took me less than five minutes to baby proof the cabinet under my sink while my daughter played in her highchair next to me. To open the locked cabinets just swipe the magnetic key over the lock on the door and you are good to go.
Retractable Safety Gate – Baby Proofing Made Easy by Dreambaby
I have been using the Retractable Safety Gate for several weeks and it is easy to use and it keeps my daughter safely in the living room without taking up tons of space. So many other gates are bulky and an eyesore when not in use, because the Dreambaby gate is retractable it takes up no space at all. When all the toys are picked up it actually looks like grown-ups live here. Who knew? The toys are out all day long, but let's not dwell on that fact. It also fits larger doorways up to 55 inches! It comes with templates to help you properly space the brackets while mounting to the wall. Dreambaby has an instruction video for the gate that you can watch before installing that I think is helpful. It is important to make sure that the gate is installed with no space at the bottom.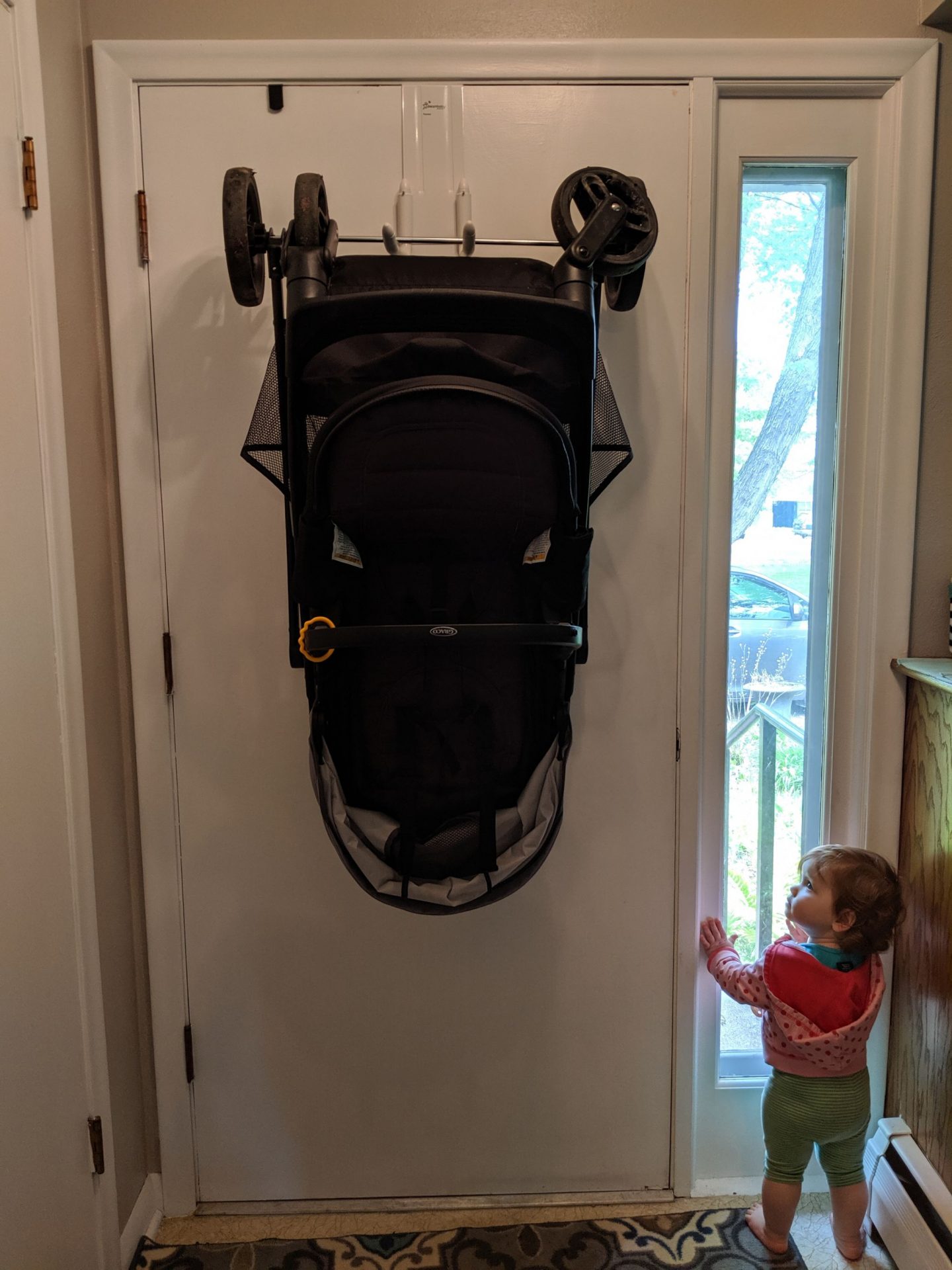 StrollAway over the door stroller holder – Baby Proofing Made Easy by Dreambaby
The StrollAway over the door stroller holder is great for keeping that bulky stroller up off the garage floor. You simply hook it over the door and hang the folded-up stroller on it. It can hold up to 50 pounds. Thank goodness my stroller isn't that heavy, but it is good to know. This is great just for keeping the garage looking nice, but it's a must-have for hanging up the stroller if you live in an apartment and don't have a garage to store your stroller in.
Give Away Details – Baby Proofing Made Easy by Dreambaby
Dreambaby products are a dream to use (Did you see what I did there?) and to install. I highly recommend them. We have partnered with Dreambaby to offer one of our readers a chance to win a bundle of their products by entering the giveaway below:
You might be interested in Breast Pumps if so, we've reviewed the best breast pumps on the market, Spectra and Medela. Our Article "Spectra Vs Medela" gives you an indepth review of both. Take a look
Products received. Thanks to Dreambaby and PR for providing us the products. All opinions are our own.