Keys, phone and wallet. Keys, phone and wallet. Every day as I set out from home, these three items are the essentials that I carry everywhere (and try to keep track of). Smartphones wow us with new and exciting features every year. Home and car access have been slowly moving toward the convenience of keyless entry. But the wallet that carries my day-to-day necessities? In my view, despite admittedly elegant (and expensive) craftsmanship, there hasn't yet been much meaningful, successful innovation in the traditional leather wallet.
That is, until now. There have been a few companies making tall claims about 're-inventing' the wallet, but there are few that have been able to bring craftsmanship, quality, security, convenience, and technology together in a good-looking, functional wallet. Recently, I had an opportunity to get my hands on one of Ekster's newly-launched slim wallets, the Parliament, and after trying it out for a few weeks, I'm super impressed with it.
Ekster Dream and Reality
Ekster got started as the brainchild of two Dutch students in the US, who were looking for an efficient and secure alternative to the traditional wallet. Together with another local partner, they successfully raised over $1 million to make their dream a reality. The company was named Ekster after the Dutch word for Magpie: "a deceptively smart bird with a penchant for collecting and hiding shiny things". A flock of Magpies is also known as a 'Parliament', which is what they named their main wallet model (totally love a great founding story!)
Ekster Wallets
The first impression for any product comes at the time of unpacking, and the Parliament came out aces on that front. The packaging was sleek and smartly designed, foreshadowing the quality of the product it holds (and definitely making the presentation gift-worthy!). The wallet has a great feel in the hand, warm, soft and supple – you can tell this is constructed from real, high-quality leather from the first touch.
Living up to its 'slim' name, the wallet is almost half the size of my old traditional wallet. While the small size means you probably cannot squeeze everything in your existing wallet in the Parliament, it made me realize very quickly how the majority of the items taking up space in my wallet are not needed most of the time (Does Marie Kondo have a method for wallet organization?). The Parliament claims to hold a maximum of 6 non-embossed cards or a combination of 4 – 5 embossed/non-embossed cards (depending on the thickness of each card). For me, the cardholder was able to easily hold two credit cards and credit card-sized driver's license. There are also pockets to either hold some cash (emphasis on 'some') and a business card or two. It does help me to focus on carrying only the essentials and I think it looks ultra-organized to be so lean!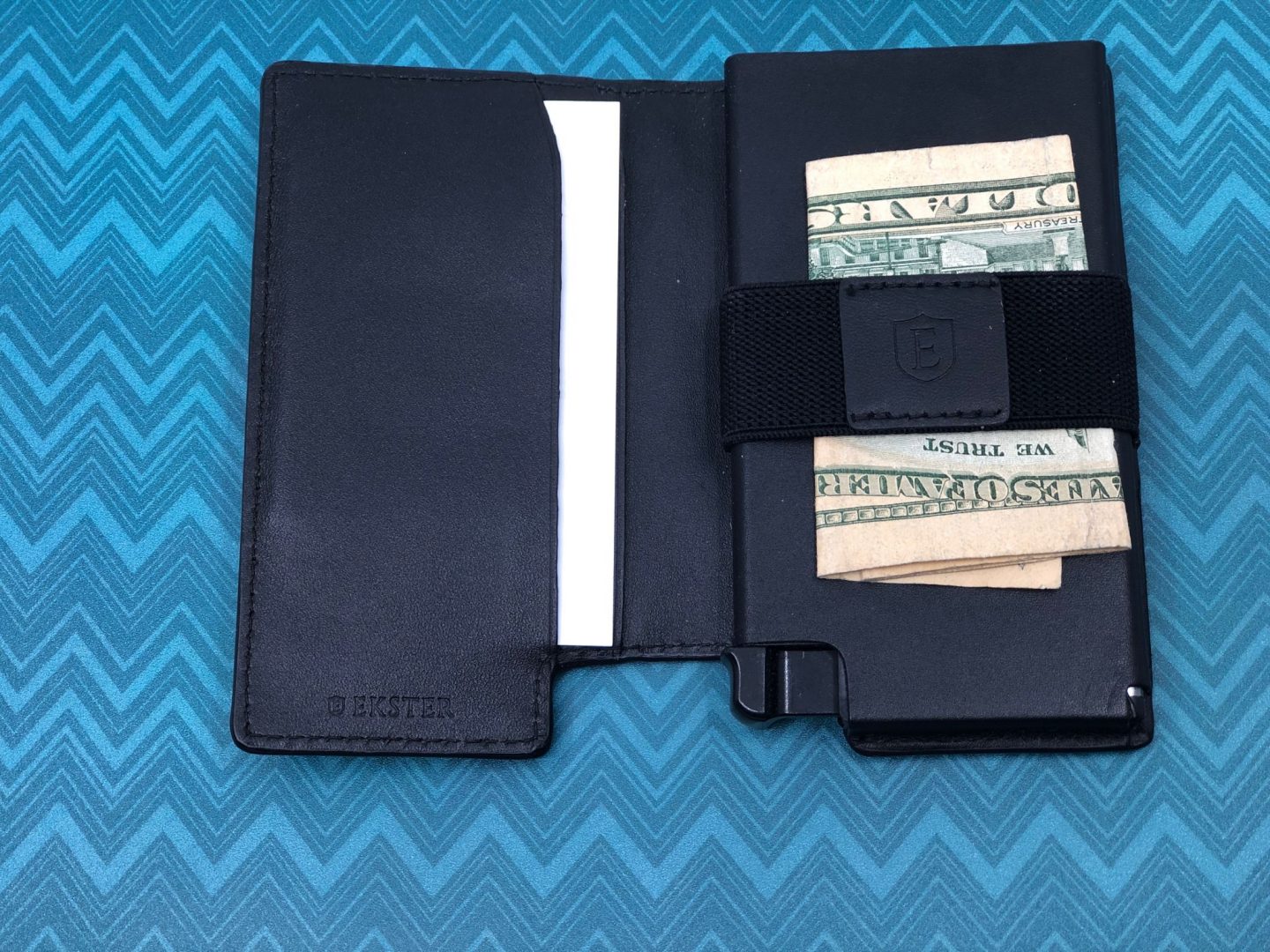 One of the cool features of the cardholder is a small lever at the bottom, which slides the cards out with a gentle push. The cards are displayed in an evenly spaced fan pattern, making it easy to select the one you want and remove it from the wallet. While the lever has been working great so far, I'm interested in testing out the longevity of that mechanism, especially after the wallet has had regular wear and tear and exposure to the challenges of daily life (I mean, the kids haven't broken it yet, so that's a good sign, right?).
RFID Blocking
The other cool, and very practical, the feature is the RFID blocking technology built into the cardholder. This stops would-be electronic pickpockets from 'skimming' your cards or trying to steal information from the RFID chips in your cards. I never really know how much to be concerned about this sort of theft, but I like the idea of the extra layer of security.
Bluetooth Tracker
Speaking of security, my wallet also came with another added layer of security: a very slim Bluetooth tracker (sold separately), that can fit into one of the pockets, and once charged and connected through the Chipolo app (the Bluetooth tracker and app provider) makes it easy to search for a lost wallet. While many of us 'never' lose our wallet (who me?), having this option does provide some extra peace of mind. Like with any Bluetooth tracker, the utility of this feature is dependent on the distance of the phone from the tracker and potential size of the network of people with the same app (and your willingness to spring for the subscription for the Chipolo service).
Conclusion Smart and Slim Leather Wallet by Ekster
All in all, I have been pleasantly surprised by how a few cards and some cash in a good-looking slim leather wallet works great as a replacement for my traditionally overstuffed wallet. I have still reverted back to a larger wallet when traveling internationally, as I've needed additional currency and other items that I haven't been able to fit into my Parliament wallet. It is so much more comfortable to sit down without a big bulge on the backside and I've already gotten compliments on how impressive my new Ekster Parliament wallet looks. This is a great product to consider gifting to the tech lover or the minimalist in your life! You can buy the Ekster Parliament, Right Now.
We are excited to partner with Ekster to offer one of our readers the opportunity to Win a Parliament Wallet of their own, by entering the #giveaway below. Good luck!
Product received. Thanks to Ekster for providing us the product, all opinions are our own.