Are you looking out for top-notch baby life jackets in the market?
If yes! This Mommy Katie's guide is just the right thing for you.
Now that it's summertime and most of us love to go on shores or watery places, take a boat out to rough it, we also have babies with us, and most of us are excited to bring them along, let them have a dip in the pool or take a glance at the water. We get it and understand. However, water for youngsters can be quite dangerous, and it must be taken care of. This is the reason why all parents should have life jackets along to provide their children with the best security possible.
Did you know that in 2012, almost 70% of boating fatalities turned out to be because of drowning? Moreover, 85% of those people who lost their lives were not wearing any life jacket.
To cut things short, a total of 90% of deaths by drowning occur on inland waters, and the majority of the people who drown know how to swim, which is why it does not matter how good you swim as long as you do not have your life jacket on. Moreover, this case goes strongly for the kids and babies of every age because they are physically weak as compared to adults.
All children, under 13 (including babies) are required to wear a life jacket. If you do not wear a life jacket, there are high chances for casualties since children are physically weak as compared to adults. This is why you must always have your very own life jacket, for the baby and the kids too. Most coast guards will not allow for babies to sit in boats, especially without a life vest, because they cannot guarantee their safety️; however, for many onshore, there are plenty of life jackets that coast guard approves of.
Before you dive into getting the life jacket for babies, you need to know some basic things. Knowing about life jackets is very important before the purchase to get the right product you need. We have some tips to help you along the way.
Significance of Baby Life Jacket. Why it's Important?
First things first, life jackets are lifesavers. They are the only constant source which can save your baby's life or provide them safety, which is what we need. In emergency situations, they can keep your baby floating above the water for as long as needed.
Based on your child's age, you will need to get them a proper life jacket. As said earlier, they can be lifesavers in haptic situations, and you must be well equipped. Also, most coast guards will approve of your baby's onshore activities if they are in a life vest and under your supervision.
Things to Consider Before You Buy a Life Jacket
Before buying a life jacket, you must be sure of a few things so you can get the right type of jacket for your baby. Some of the basic things to consider are:
Why do you need this life jacket? What is the basic purpose of getting this life jacket? Is it for pools, for onshore activities, for taking your baby along on adventures? You need to think about this and then get the right type of jacket.
Consider your child's age before buying a life jacket. What is their age and how well will they be able to carry the jacket you are buying them?
Size of the life jacket is also very important. For infants/Toddlers, the size is 8-30 lbs.
Movement should not be a problem; it must not stop your child from having their fun.
The best life jacket must be durable enough to withstand all extreme conditions. There should be no question regarding the durability of the jacket.
For infants, the infant's life jacket must provide full head support and comfort.
Is Baby's Life Jacket Worth it?
Yes, it is definitely worth it. It's a Must-Have.
When it comes to baby life jackets, it's not a question as to whether or not you should have it, life jackets save lives and render a great value in emergencies which one must never forget. Also, it is the law that children must wear a life vest all the time they are in waters.
Does Baby Life Jacket Have Types?
Life jackets have four types among which type 1 to Type 3 jackets are approved by the coast guard for onshore activities, to ensure the maximum safety of your child. Based on the activities you engage your child into, you may need to purchase the right life jacket.
How long Can I Keep A Life Jacket?
Life jackets can be kept up until a period of 10 years (foam filled) if it is without any defects and deformities.
This perfect baby life jacket is made with the highest quality materials to provide maximum safety and protection to your child so that you can stay calm and happy enjoying your holiday.

It has a design which will perfectly fit the baby's body without gliding up; the hands will help them perfectly puddle and play in the water. The blue color perfectly suits the water and also highlights your child. The design is movement free, which means your child can carry this jacket and still enjoy playing at their best. It is the best toddler life jacket.
Pros:
Made with the best material
Perfect for puddles and growing children
It is type 3 and 5 jackets approved by US coast guard.
This best toddler life jacket is for kids of 30lbs to 50lbs.
Lightweight
Cons:
Size problems. Please make sure that you get the right size before purchase
Why Buy This Life Jacket?
This lifejacket provides ultimate support and free movement to your child due to its convenient design.
[su_button url="https://amzn.to/2Z28HMV" size="4″ center="yes" rel="nofollow"]Take Action Read Reviews or Buy Now[/su_button]
Spend the holiday doing what you love as you keep calm with this best baby life jacket around the corner. With this life jacket around the corner, you can be worry-free of the activities your
children perform as long as they remain safe. This vest is a perfect choice for kids under 30lbs. It is approved by the US Coast guard.
With the adjustable safety belt between the legs, one can easily adjust it and be sure it won't glide up in the water. This life jacket is Lightweight and contains Fluid Foam Neoprene Shell.
Pros:
Best life jacket for kayaking
Easy to remove safety buckles️.
Supports adjustable straps.
Includes comfortable head support.
Cons:
A little large for younger infants.
Why Buy This Life Jacket?
In terms of design, this life jacket is the perfect catch provided the right size for your child. This life jacket can do wonders. It has comfortable head support, and it also allows your childfree movement. It is also the best life jacket for kayaking.
[su_button url="https://amzn.to/31DGbTt" size="4″ center="yes" rel="nofollow"]Take Action Read Reviews or Buy Now[/su_button]
This type 2 level best toddler life jacket is a perfect catch for anyone who wants to have a life jacket that easily glides on and off.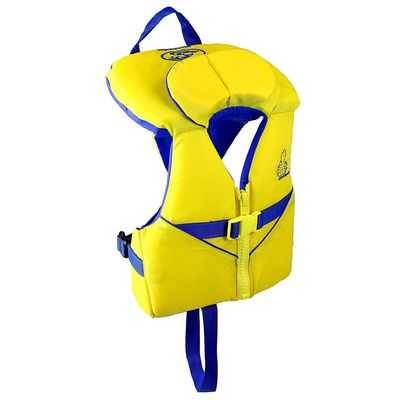 This life jacket has a beautiful striking design to easily locate your child, and it floats very easily. It keeps your child at his hands and mobile so he/she can enjoy swimming while still being safe.
Pros:
Provides ultimate safety and convenience to your child
Full arm mobility for your child to play their best.
Zipper front for easy on and off.
Cons:
It could be more comfortable than it already is.
Why Buy This Life Jacket?
This jacket is made specially to keep your child safe and comfortable. It is type 2 US coast guard approved jacket.
[su_button url="https://amzn.to/31HD5xO" size="4″ center="yes" rel="nofollow"]Take Action Read Reviews or Buy Now[/su_button]
The Salus Bijoux Best Infant life jacket provides the ultimate safety and durability that goes beyond standards so that your child can be safe and well protected.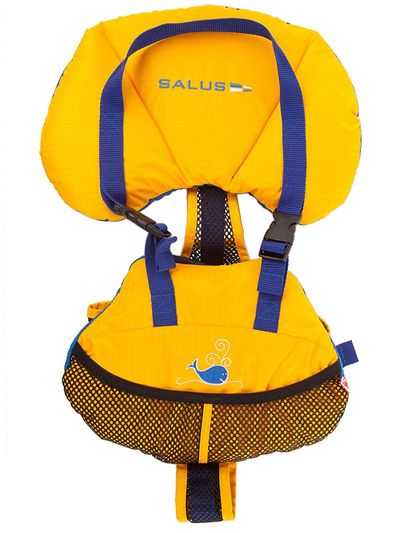 Perfect for kids between 9 to 25lbs. It ensures your child is well protected both in sleeping or sitting position. It is the winner of the Canadian Safe Boating Award (CASBA) for Best New Safety Product. It is adjustable and provides durable straps for ultimate security.
Pros:
Has the most durable and breathable material
Has a mesh back which lets the baby lie with comfort
It is easily adjusted with buckles
Best value for the money
Cons:
It is not yet approved by the USCG.
Why Buy This Life Jacket?
It is one of those life jackets that can be comfortably worn by an infant. With the best comfortable build design, your child can easily lie down in it as well. It also provides temperature control to keep your child away from any complications.
[su_button url="https://amzn.to/2H8Z8W7″ size="4″ center="yes" rel="nofollow"]Take Action Read Reviews or Buy Now[/su_button]
This is the perfect life jacket which is available in a variety of amazing and beautiful looking colors for children. It is very comfortable to wear and provides maximum safety with its design and
entire feel. Head pillow and crotch strap keep your young swimmers comfortable in the water. The quickly releasing buckles provides easy and wearing and taking off.
This is USCG approved best baby and infant's life jacket. It has a durable outer nylon shell which not only feels soft but also provides the maximum protection possible.
Pros:
Provides adjustable straps
Available in a variety of colors
Comfortable to wear
Best life jacket for kayaking
Cons:
A little heavier than usual but worth the safety it provides.
Why Buy This Life Jacket?
It is made with high-grade nylon material and easily adjustable buckles which provide ease of use with maximum protection combined, which is an amazing reason for you to get this best baby life jacket.
[su_button url="https://amzn.to/2N1AydL" size="4″ center="yes" rel="nofollow"]Take Action Read Reviews or Buy Now[/su_button] [su_note]
Tips and Tricks for Infant Life Jackets:
Make sure the life jacket perfectly fits the baby. It should be of the perfect size. Chest size is also a very important factor to consider here.
The life jacket even though it is a bit bulky, but it should not be a hurdle in the moment of your child. It should not stop them from fun.
Life jackets should always be tied in the right manner to prevent them from gliding up. Care needs to be given in this aspect.
Before trying out life jacket in real life, a demo for your babies can prove to best. Also, have your child practice in calm waters since the majority of risks occur in calm waters. Teach your child how to be relaxed in a life jacket.
It is also best to test the life jacket for any defects beforehand.
For infants, make sure the life jacket provides full-body support, including head support.
Always rinse the jacket after use or clean it with a cloth.
Never expose your jacket to the sun for long hours if not in use.
Never use a harsh detergent while cleaning the baby's life vest.
[/su_note]
Conclusion Best Baby Life Jacket
That's a wrap. We hope this article was a huge source of information for you guys and that you guys learned quite a bit from our guide related to baby or infant life jackets. Surely by now, you would have got pretty much of the information regarding best life jackets for babies and infants.
Always keep in mind that a child's safety comes first and nothing is to be compromised over it. It means that life jackets are a must no matter what age your child is. It would help if you had them on a safer side because we should always be fully prepared for the worst while expecting the best.
Until next time, we're signing off. Please tell us what you think in the comments bar below. You may also be interested in breast pumps. We've reviewed the top 2, Spectra Vs Medela