This couldn't have come at a better time – wicked hot weather, anyone? Well, at least in Minnesota, we like to mix it up with temperatures that jump into triple digits and then quickly fall back into more temperate patterns. It can be challenging to thread the needle when planning the perfect family day at the waterpark – too hot, and the waterpark is so crowded you can't move; too cool and the goosebumps get you shivering all the way back to the car.
Great Wolf Lodge to the rescue! We've driven by this massive indoor waterpark a million times and always commented that it looks like a lot of fun…" we should remember that next winter when we have a staycation!". Of course, with our extended families living out of state, we never seem to have time to stay for the staycation! We were super-excited to learn that Great Wolf Lodge has recently started making day passes available for select parks – this is perfect for folks like us who would love to spend the day at the Lodge but don't need to stay overnight.
Booking the day pass was a little more structured than we've experienced at other local waterparks. Availability (and pricing) of Great Wolf Lodge day passes fluctuates depending on projections of the overnight guest occupancy, so day passes can only be purchased online and for a specific date at least 24 hours before your planned trip. Starting at $50/day per person (children under 2 are free), pricing for the day passes are a bit of a splurge as well, compared to other local options.
The whole family was excited about spending the day at Great Wolf Lodge, and the hot, humid and sunny weather made us even happier to be leaving our sunscreen in the car and head into the 84-degree environment inside. Having experienced other waterparks and swimming/splash pools locally and given the high temps, we were cringing a little at the thought of fighting for lounge chairs and elbow room, but all the great photos and reviews we saw online made us certain it would be worth it.
Our first impression of the Great Wolf Lodge was awesome – we went on a Saturday morning, so there was a lot of activity in the lobby area, but it was pretty relaxed and there was plenty of lounge space so it didn't feel crowded. The check-in team was friendly and we got our wristbands in just a few minutes. Off to the park!
Of course, on the way to the waterpark, we window-shopped a little as we passed by the Buckhorn Exchange Gift shop and barely avoided the temptation to stop at Dunkin Donuts, but we pressed on! The entrance to the waterpark was jaw-dropping! It was so much larger than we expected based on some of the other indoor waterparks we have visited! We were also impressed by the spacious feel and the noticeable lack of the throngs of people we usually encounter on a hot day at the pool.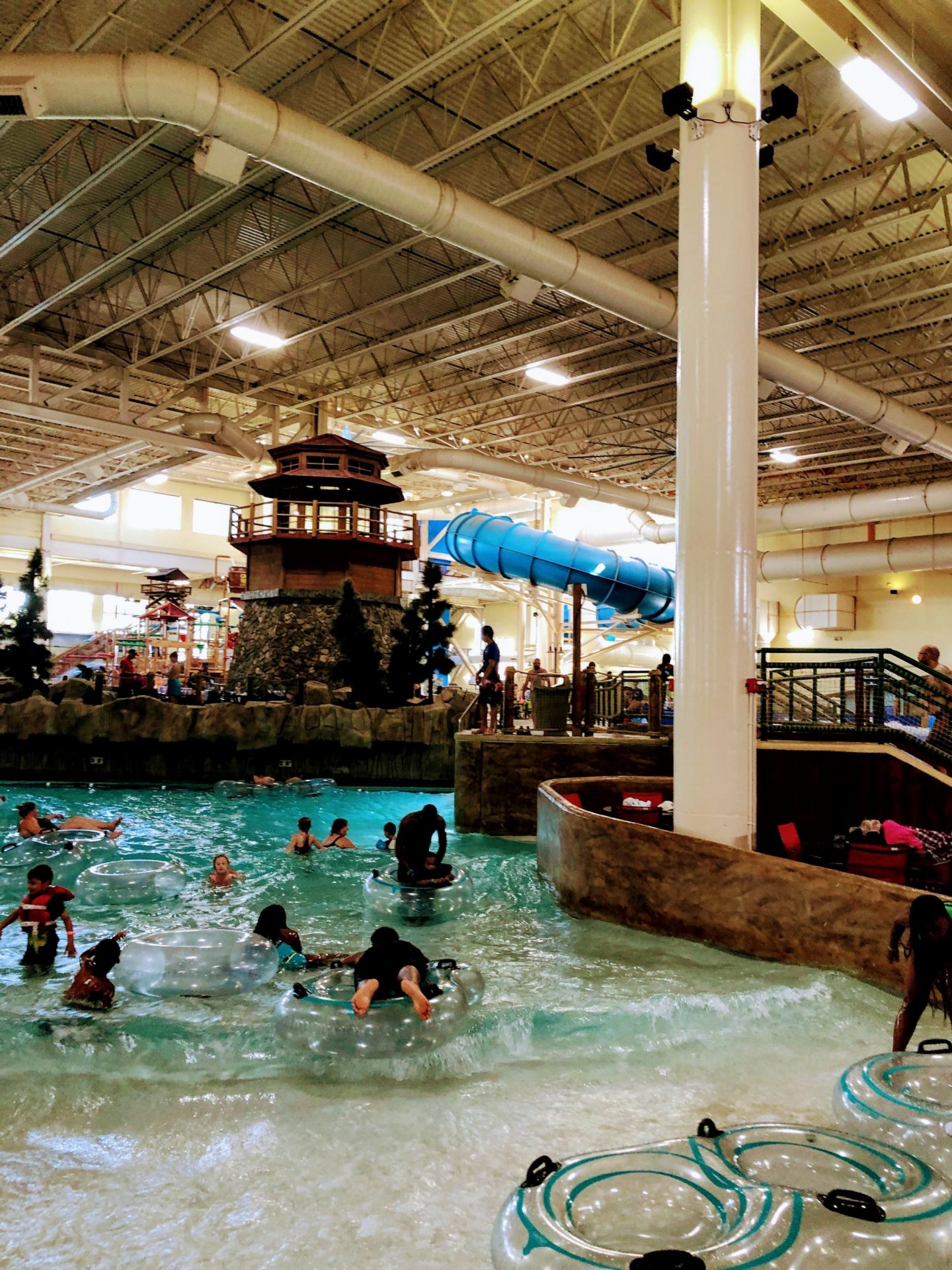 It was a good thing we came already suited up because the kids couldn't wait to jump in the water (after we life jacketed our littler one of course). We headed first to the younger kids' zone – the Cub Paw Pool, Fort Mackenzie, and Totem Towers. The kids loved the many options to splash and play as well as four different slides exiting the Fort, and the parents loved that it was super easy to find a lounger nearby and relax while keeping a close eye on the action.
Of course, it was a good thing we had a few minutes to relax on the loungers by the kid's zone since we soon headed out for the more adventurous experiences that had both parents in the water too. The Wolf Rider Wipeout was an awesome bodyboard experience that was a fun way to surf in the Land of 10,000 Lakes! The Slap Tail Pond was a great wave pool and we loved that it was so easy to grab a single or double tube to enjoy being tossed (gently!) around on the waves (no lines!). The Crooked Creek lazy river looped around the park, flowing out of Slap Tail Pond and rejoining it at the end. It was a nice way to relax and enjoy a view around the whole park.
The next stop was Chinook Cove, a fun activity pool with basketball hoops and lots of space for playing together as a family. Big Foot Pass was right next door and it was an impressive challenge for the kids to cross the floating 'wood slabs' using only their balance and an overhead cargo net. This was our younger son's favorite challenge ("It's like Ninja Warrior, Mom!"). The parents took turns with our older son in the Otter Run slide, which was an entertaining family-friendly slide. We skipped the larger slides this time, as we just ran out of time (the downside of the day pass) and our younger son is still a little intimidated by big slides.
All-in-all, this was a great day, and we barely scratched the surface of things to do at Great Wolf Lodge. We enjoyed a bite in one of the quick-service restaurants and would definitely love to check out the larger, sit-down options next time. The arcade, ropes course, and climbing wall were also enticing and the kids were already begging for a return visit to check them out. We look forward to our next day-trip to Great Wolf Lodge!
Product received. Thanks to Great Wolf Lodge for providing us Day Passes, all opinions are our own.