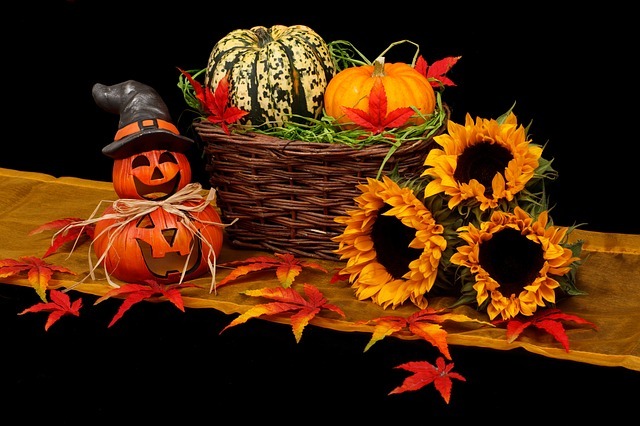 Halloween is just around the corner and preps for it are at their peak. Since Halloween is one of the special events of the year, everyone does their best to look amazing and dashing for it. People decorate their homes, have parties, go out, dress up in beautiful but scary costumes, and whatnot, the whole environment is full of fun and frolic.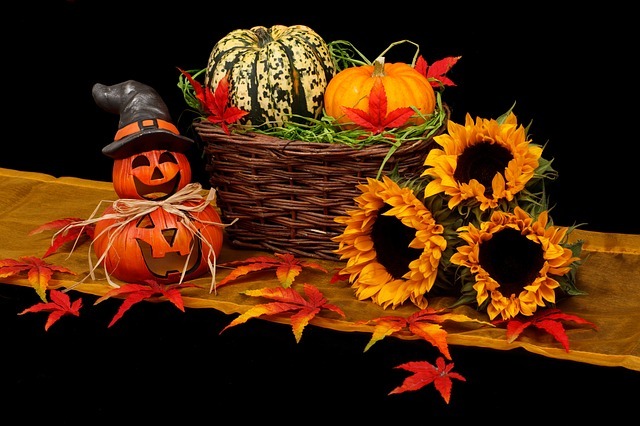 All around, it is not just about the candy itself but so much more than that. You have to find the right costumes, the right hairstyle, the right face paint and everything else. From kids to moms and dads and homes it all has to be perfect. Finding decor items in this way might be a little challenging, plus you also have to plan days ahead of the big event, which can be quite tricky for some people. Many wish the day in itself go out to be the way they expected as a perfect one, and we understand the aroma in the environment as soon as Halloween comes nearby.
This is why mommy Katie has come up with an ultimate Halloween special guide to help you and prepare you for the special event of the year. We know you want it perfect and it has to be, so we have prepared a list of everything you will be needing, we have also included some tips as well so that you can get the best help that you can from them to celebrate your Halloween in the best way possible.
Let's get going
The Best Way To Celebrate Halloween
The best way to celebrate Halloween is probably the one that you celebrate with your family and friends, engaging as much as you can with your children to give them the best day as possible. Here are a few of the tips for having the best Halloween.
Throw a small party with your family and friends where you gather and have amazing conversations that lighten up the Halloween spirit.
Have an amazing spooky dinner, use pumpkins to make at least one dish, and give your family and friends a hearty meal so that they can end their day with amazing experiences.
If you're a kid or teenager or if you are someone with kids, do involve in trick or treating since it is one of the best things you can do for your kids to add up to the Halloween fun.
Give your kids a taste of spooky stories. Share spooky stories with your kids or involve all kids in a circle and play spooky games with them.
If you are an adult, you know what you do every time there is a knock on the door. Give away fabulous candies to all kids coming up your door.
Go out and engage in the many Halloween events happening in your city or around. Engage with people and in fun games. It is also the best way to celebrate Halloween both for the parents and the kids.
Last but not least, decorate your home to enlighten the spirit of Halloween. Pumpkins are a must-have for Halloween.
Useful Tips For Halloween:
[su_note note_color="#545942″ text_color="#de7f7f"]
Halloween is all about having the right moment with the right people in the right manner. However, there are some tips you must follow to make sure your day goes as smooth and as much as possible.
Make sure you plan ahead of the day
Keep things simple and fabulous
Make sure you take care of your dress by staying away from any potential things that may damage it
Prepare dishes ahead of time
Make sure you decorate your house at least one day before
Watch out for the rain.
Book your tickets for your favorite shows or carnivals, if any.
Plan an amazing dinner, and invite your friends over.
Grab some chocolates from the store to give random children.
Plan your costume at least two weeks before.
[/su_note]
Halloween Decor Ideas And Hacks:
Decoration in Halloween is one of the most amazing parts of Halloween; it enlightens the entire spirit of Halloween and makes sure there is room for some fun.
While selecting the best decor, make sure you get the most affordable items on deck. Also, be sure you use such decor items which you can use for later use in different occasions of your house as well. Selecting the right and durable decor for Halloween is very important because you may never know the weather conditions. Also be sure to make something out of the simplest items like lights, candles, and pumpkins and come up with a then of your own if you are on the budget.
Here are some of the products to help you efficiently decorate your porch and make things easy. You can order these affordable decor items and save extra money.
Dazonge Halloween Decorations Outdoor
Now you can start to decorate your porch in the best way possible with these creative and fancy Halloween porch decor. This festive and fun decor will make sure it welcomes the curious trick-or-treaters and delight party guests to get them into the Halloween spirit in an instant. You can also take amazing pictures with such a fancy decoration in the background. Check it out here.
MAOYUU Halloween Decorations Outdoor
This is the perfect combination of Halloween decor in the form of witch hats and warm string lights to make things classy by themselves and give your porch a nice glittery glow. This decor will stand in the harshest conditions possible as sturdy as they can be, and work like never before with the IP65 waterproof rating. Whenever you press the button once, the lighting of this decor hats will change to a different mode every time. This decor is completely reliable for use. Check it out here.
JOYIN 17" Halloween Foam RIP Graveyard Tombstones
Give a deadly appearance to your yard with these lightweight and easy to move foam tombstones. They come in amazing five different spooky and unique designs to give an amazing horror ambiance. The play also has a very realistic stone or wood finish to complete the grim look. It is a perfect match for any scary situation from yard decorations to Halloween parties to the carnivals and much more. Check it out here.
72-inch Cocoon Corpse Decoration
This is an amazing 72-inch prop, perfect for partying and tailoring your Halloween decor needs. It is the perfect choice for a porch or lawn to hand it and get the Halloween spirit going. It can pack in a very small size but expands into a full 72-inch corpse making sure the Halloween party or decor gets as real as possible. It is also very sturdy and reliable and can go for years of use. Check it out here.
Twinkle Star 24 LED Halloween Lighted Birch Tree
This is easy to put on Halloween decor, which can not only put on with ease but also assembled with the same ease. The branches of this Halloween decorative and lighted black tree have a total of 24 LED lights and 24 pumpkins, which cast a spooky orange shine. They are easy to assemble and only for indoor use. This tree also has a compact design which is ideal for small spaces and desks. You can see them here.
JOYIN Realistic Looking Skeleton Stakes
It's time to start spooking your Friends with Realistic Skull and Skeleton Arms Lawn Stakes made exclusively by Spooktacular Creations. These realistic-looking skeleton stakes are very easy to set up, in minutes and give quite a realistic look bringing back the real spirit of Halloween. It is the perfect decor item to have for Halloween this year. We have buried the bones here.
LED Candle for Halloween Decorations
Now you can spread an amazing glow in full bloom without the danger of candle flames. Illuminate the night with these Flameless Tealight candles made especially to give you the real Halloween vibes. They offer a safe, effortless, and of course! An alternative to the traditional candles. Not just for Halloween, these lights are perfect for all occasions. Dinners on Halloween can be so much more fun if you turn off the lights and put these on tables instead and have a spooky dinner. You can find these candles here.
Halloween Costume Guide For Moms
Moms have to look just as classy as the kids these days to give off a sense of fashion and style and engagement with children. After all, Halloween is for everyone! Mothers can help themselves select costumes that look decent and yet spooky at the same time; they can imitate as one of the scary witches or any other characters they like to make sure they look as cool as their kids.
Also, moms can pair up wearing the same dresses as their kids to upgrade the costume game even more.
Taking care of your dress on Halloween is an important thing since moms are involved in many things all at once, we recommend that while being in the kitchen or doing some strenuous activity wear something over the top to keep the dirt from slipping in. Especially if you're cooking, have your aprons on, and do your best to stay away from all activities that involve staining or somehow damage the dress.
After Halloween passes, if needed, you can wash the dress and store it in a safe place where it is ready to be worn for another party.
If you're a mom and you're looking for Halloween costumes but can not find the right one! Here is a fee of our top pick, which you will love.
Halloween Dress for Mom and Baby
This is a perfect costume for babies who are still not walking yet. It is very colorful and well made, easy to wear and manage so your baby can be both comfortable and stylish. Moms can easily wear it and look at themselves as divas as well as carry their babies around.
Baby and Me is another fun to wear diver Octopus to turn things around and have fun as you wear it, it is easy simple and very stylish to wear. Plus, you are at free hands as the baby is tied around you comfortably. Here's how you can get it.
This is a one size costume that perfectly fit moms and makes them look like the superheroes that they are. Perfect and easy to wear on Halloween. Here it is for the grabs.
Plus Size T-Shirt Supergirl or Wonder Woman Logo Belt Print Costume
Look like a wonder woman, feel like a wonder woman as you shine this Halloween in this perfectly sewn costume for supermoms. Get yours here.
Costume DC Comics Wonder Woman T-Shirt With Cape And Headband Red
This superwoman and Wonder Woman costume is a perfect fit for all DC moms to engage with their children and go out wearing one of the coolest costumes. Easy fun and simple looking costume giving you its best. Here it is.
DC Comics Super-Girl T-Shirt With Cape Costume
Moms are no less than superheroes, and they deserve to look like one, so give yourself a makeover by wearing this superwoman dress and be one of the coolest moms on Halloween. Here it is for you.
Halloween Costume Guide For Dads
Dads are the superheroes, and superheroes never go out of style. Dads to have a Halloween to celebrate and look forward to having fun with their kids. While picking the right dress for Halloween, dads can look for very basic but amazing costumes which not only fit their personality but also increases their children. They can imitate superheroes, detectives, jokers, and whatnot.
While looking for a dress, comfort should be kept as a priority, and so should be style. Take care of your dress on Halloween by staying away from any potential risks that may damage your costume, so that you can have an amazing costume by the evening. Also, try to be as decent as possible.
Once Halloween is over, if needed, wash your dress and put it away in a safe place with the rest of your costumes, so it's ready for use in the upcoming events.
Adult Official Jurassic World Inflatable Dinosaur Costume
This is a perfectly themed Jurassic World Costume that Dads can wear to look like Halloween Dinosaurs. It is easy and fun to wear, and a great way to spook your kids. You can get it here.
Skeleton Maternity Halloween Couple Matching Shirts Pregnancy Tees X-Ray
These super cool Couple maternity t-shirts are for future dad and mom to celebrate their Halloween in the spookiest and fun way possible. They are super comfortable and safe for moms, and dads can tag along looking extra unique. You can get it here.
Fred Flintstone Halloween Costume for Men
Flintstones no doubt was an epic journey for us all as kids. Dressing up like the flintstones will bring back those vines on Halloween. This costume is extremely comfortable to wear and does not gather any dirt, making you look at the perfect flintstone all day long. You can get it here.
Scare and spook everyone away with this headless man's costume, which is a fun costume for all dads to perfectly tag along with their kids on Halloween. You can get it here.
Unicorn Costume Inflatable Suit Halloween
Look like the perfect unicorn angel dad with this 100% polyester unicorn costume that is strong and durable so that you will never have to worry about any tears or holes. You can get it here.
Halloween Costumes For Kids
Kids want to have the most FUN and amazing Halloween. After all, it is one of those events that they wait for, for all the years of their life. They enjoy it more than the grownups, and their excitement is on its peak. Trick or treating and wearing costumes is one of the most favorite parts of their Halloween day.
To pick the right dress for your kids, you must know about your kids and how careful they are, remember to never choose a dress which is somehow not comfortable for the kids or if they call fall down in it. Also, be sure to select a dress that is not much prone to dirt and dust because kids can be very clumsy.
Make sure you give proper instructions to your kids to stay away from this that might damage their dresses so that their costumes can last throughout the day. After Halloween is over, wash the costumes if needed and put them away for future use in a safe place.
If you're looking for the most amazing costumes for your kids, you might just want to check a few of our top picks.
This pineapple costume is an amazing pair up for all toddlers, which will make them look cooler this Halloween with additional comfort, so they never feel irritated. You can get it here.
Beautiful Pumpkin Costume For Halloween
This costume has a super cute and funny design to make your baby look outstanding this Halloween. This costume is suitable for taking photographs in Halloween parties for family day or any occasion. You can get it here.
This astronaut costume will take your kids up a ride on space this Halloween. It easily fits kids and is perfect for photography. You can get it here.
Scare it away with a lion costume for your kid this Halloween, if they want to be lions, get them this fun, durable, easy to wear, and amazing costume. You can get it here.
Amazing Rubies Costume For Halloween
Involved in this fun Harley Quinn DC costume for girls and look like a DC chic. This costume is a fun way to enlighten the Halloween spirit making your girl look perfect. You can get it here.
Favourite Emotions And Emoji Cpatume For Halloween Kids
If you like fun dress ups and wearing emojis are your thing then with these characters face tunic poncho-style Costumes, you will rock the Halloween Day. You can get it here.
Urban Legends Killer Costume For Kids
Morphsuits are all-in-one costumes that cover the whole of your body from head to toe. You can breathe through them, drink through them and see through them, but no one can see you. So enjoy your Halloween Spooking Around as an entirely different person. You can get it here.
Rubies Black Panther Children Costume
This Black Panther movie costume includes a printed black and grey jumpsuit with attached shoe covers, and mask to make your kid look like a real black panther this Halloween. You can get it here.
Spooky Children Fairytale Costumes
This easy to wear costume includes all the necessary accessories and clothing items to make you look no less than a fairy tale witch. It is also perfect for occasions other than Halloween. You can get it here.
All the Gotham City criminals will run when they see you and your Muscled Chest in this Batman costume this Halloween. Perfect for kids of all ages. You can get it here.
Rubies Paw Patrol Chase Children Costume
Your child will be all ready to take charge and keep things in order in this adorable Paw Patrol Chase costume this Halloween. It is comfortable and durable enough to withstand any tears. You can get it here.
Rubies Jurrasic Inflatable Costume For Kids
Kids are Jurrasic World Fans and who knows it better than parents. Surprise your kid this Halloween by purchasing this costume for them so that they look amazing and feel amazing. You can get it here.
Frozen Inspired Dress For Little Girls
Frozen is among the most popular Disney characters that girls these days adore. Get your small one this costume on Halloween and allow her the pleasure of feeling like a perfect Frozen Ice Queen. You can get it here.
Children's Doctor Surgical Costume Dress
Some kids love to heal and feel like they can make magic happen. Let's agree that most kids like to fantasize about being doctors, and Halloween is the perfect opportunity to let them enjoy the feeling of being one. You can get it here.
Sally was designed by Dr. Finkelstein, and now girls can dress up as the iconic Sally in this very cool deluxe costume. This costume is the perfect fit for other parties as well. You can get it here.
Your daughter is going to love it when she finds out just how amazing she looks in this punk dress. If your girl is a punk. Get this costume to show her the love she deserves this Halloween. You can get it here.
We hope this all in one guide was an amazing experience for you guys, and you got the right materials, all in one place here in this article. Halloween is one of those events in the year, which brings lots of fun and amazing memories along, and we wish you the best of luck. Let us know what you guys think in the comments bar below.
Have a spooky Halloween!