We had started working on this post before the whole world changed in literally a few weeks. Now, more than ever, the need for good coffee at home stays paramount. Read on and check out this great coffee subscription service, which also helps the small local businesses.
The subscription economy, they call it, that ability to engage a trusted third party to curate a certain category of products and select items for you based on your specific tastes and preferences. We've come along way since Columbia House, my friends (I know I'm dating myself here, but I really couldn't help it)! We've enjoyed subscription clothing boxes (some hits, some misses), subscription meal kits (mostly hits) and now we've kind of gotten the bug for the checking out new categories of subscriptions available.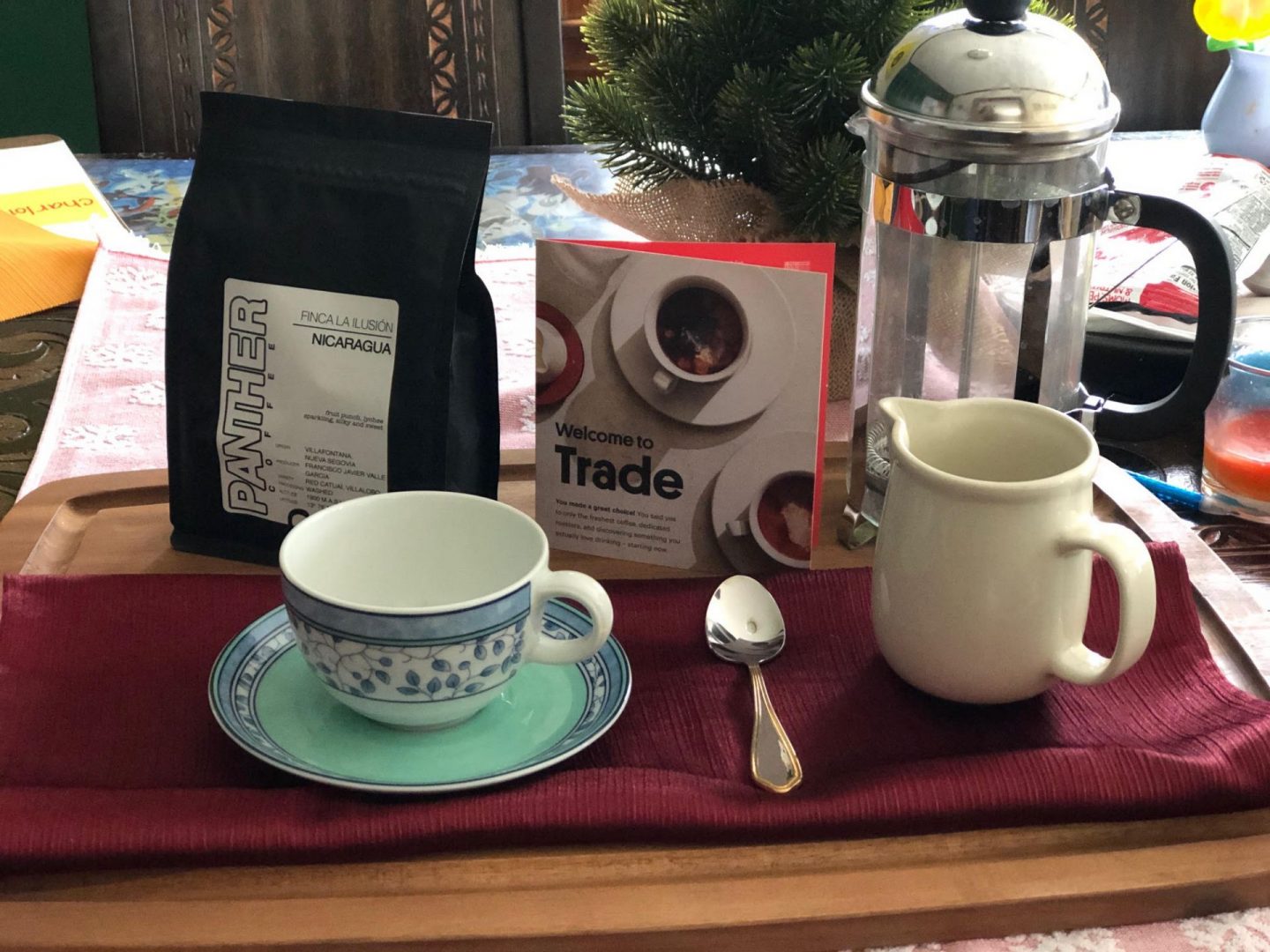 One of our most recent passions has been a specialty coffee subscription service. Now, many people criticize the Twin Cities for the weather, but even the naysayers have to admit we've got great specialty coffee houses that boast signature roasts, each with their own balance of flavors and intensities. And yet, we travel regularly and some of the places we visit are not so blessed with the great variety of coffee available (yes, yes, we are a little snobby about the big chain coffee shops, I have to admit). So we were pretty intrigued to try Trade Coffee, especially in preparation for some holiday travel to the nether regions of the Great Midwestern Good Coffee Desert. The concept is pretty cool, albeit somewhat standard for the subscription model. You first complete a short survey intended to assess your preferences and the selection algorithm selects a coffee that matches your taste profile.
The website was super easy to use and we filled out the survey in just a few minutes. I loved that you can specify your preference for whole beans or ground coffee, and even specify your preferred brewing method so the coffee is ground to perfection. Of course, we generally prefer to grind our own beans, but for traveling, I always order ground coffee as we just don't need the hassle of carting along a grinder. A few personal (and yes, financial) details were needed to register for our first coffee delivery.
Our first delivery arrived in only a few days after we completed our taste assessment. The first roast selected for us was "Panther Coffee" described as "fruit punch, lychee, sparkling, silky and sweet". Who wouldn't love that? We quickly brewed up a pot using our favorite French press. The coffee was great and I followed the recommendations on the Trade Coffee website regarding trying it black before adding my usual milk and sugar. I could really taste the 'silky and sweet' taste when drinking it black, but I'm a creature of habit and also loved it with milk and a tiny bit of honey.
Our holiday travels took us yet again to a great rural midwestern town, much loved for the family residing there but certainly in the middle of a specialty coffee desert. Everyone loved trying the Panther Coffee (ok, everyone except Grandpa, who always prefers that stuff in the red can to anything new). We also enjoyed being able to gift Trade Coffee subscriptions to some of our 'have everything' friends and family members this holiday season. We are all looking forward to our next delivery of Trade Coffee!
In order to get an easy start and testing out the service, we have partnered with Trade Coffee to allow one lucky reader to order any bag of coffee under $25 from the Trade store. Use the giveaway box below to enter.
Product received. Thanks to Trade Coffee for providing us the product, all opinions are our own.