This is a sponsored post in partnership with The Network Niche Influencer Agency and American Standard.
Updated (March 2020): We had this Bidet Seat for about a year and a half now and we couldn't be happier! Trust us, once you enjoy a warm toilet seat along with the clean feeling from a warm water spray, it would be hard to go back to a regular toilet. More so, in these days when the stories about toilet paper hoarding and shortages abound, we are loving having much less 'TP-stress' because of our bidet. If you can find (and afford) one of these seats I say go for it.
Is there anything more refreshing than feeling clean? Cue the cozy feelings that follow a nice hot shower or a deep soak in a bubbly bath. Even a simple splash of water on the face helps to feel re-energized and ready for the day. Many would say that water is an essential part of feeling clean and maintaining proper hygiene, yet one important piece of most Americans' personal cleanliness and hygiene is notoriously free of water. Have you guessed it? Of course! We are talking about using toilet paper for cleaning up after using the toilet. It may come as a surprise to the average American that in many parts of the world people use water instead of toilet paper for a better and more efficient clean (and they think our habit of using just the T.P. for #2 is pretty gross – "what would you think if someone just wiped dirty dishes down with a dry paper towel instead of washing them'?!!).
I was introduced to the handheld bidet sprayer (think kitchen sprayer mounted alongside the toilet) when I first visited my husband's home country of Pakistan. He grew up using water for clean up and admits that he still feels the cleaning process is incomplete if he only uses toilet paper. The use of water for cleansing post-toilet use is often a function of religion and/or culture, and in my travels, I have found it to be very common across a variety of countries, from Europe all the way to Asian countries like Japan, Korea, India and Pakistan. (Seriously, let me tell you that the Japanese have actually taken the cleaning and comfort of the human undercarriage to a whole new level, but that is a story for another day.) The style may differ, from simple 'watering pitcher'-like 'lota' in many Muslim homes, to standalone 'traditional' bidets in Europe or the high-tech wonders of the Japanese electronic toilet seats, but the world outside of North America is pretty unanimous in choosing 'Wash" over "Wipe".
We shifted over to the handheld bidet sprayer a few years ago and would never go back (we've even won converts among my American relatives that have visited and given it a shot). It beats toilet paper (hands down?) when it comes to the extent of cleaning and hygiene, and the feeling of freshness and comfort afterwards (who said 'hemorrhoids'?). Some even claim there is a 'green' reason to switch from exclusively using t.p. to using water for posterior cleansing (it takes 37 gallons of water to manufacture 'one roll' of toilet paper).
We never really considered moving beyond the handheld bidet sprayer, thinking, perhaps like most people, that bidet toilet seats were much more expensive and complicated to install and use. Boy, we were happy to be proven wrong when we got a chance to experience the American Standard AC 2.0 SpaLet Bidet Seat (yes the name is a mouthful, but don't let that hold you back)!
For those who don't know what a bidet is, it's simply a sink or plumbing fixture for cleaning up the private parts after using the toilet. American Standard, known for making quality plumbing products for over 140 years, has actually been making bidets for over 50 years (who knew!) and the new SpaLet Bidet seat shows off their expertise. This SpaLet Bidet seat simply replaces the standard seat of the typical toilet, providing a variety of comforts for this very personal activity. We found installation to be quite simple through following the clear instructions provided in the product manual (no plumber or advanced DIY skills needed!). You do need a properly grounded GFCI power outlet close to the toilet to be able to plug it in and detailed measurements are also included to help you determine if the SpaLet Bidet seat will fit your existing toilet and bathroom layout.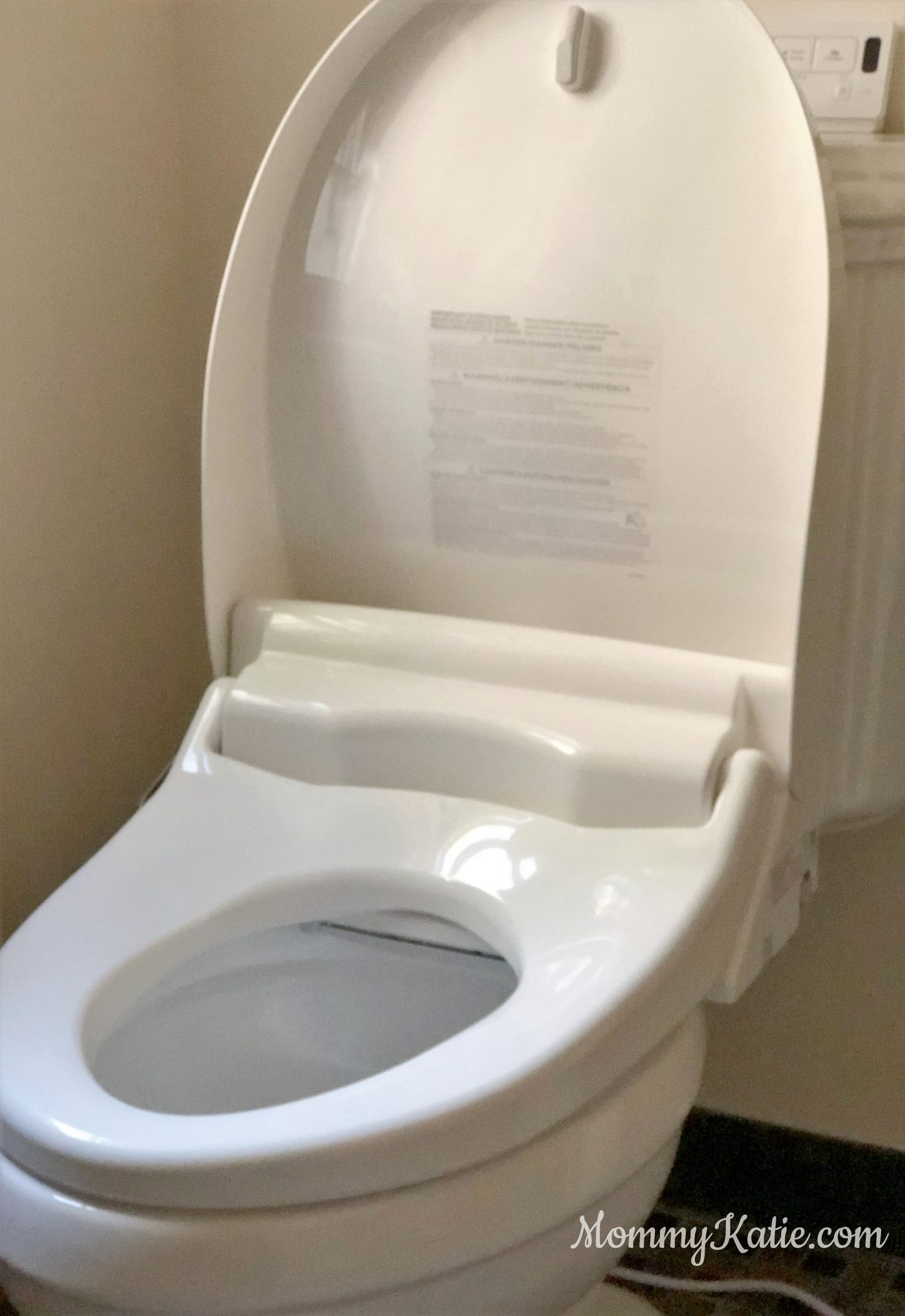 Next, if you are going to have moving parts in your toilet seat, you want those to work quietly, effectively and efficiently, i.e. a quick, simple, hands-free and hassle-free clean. The SpaLet bidet hits the mark well on all of those. The bidet comes in two separate configurations, with controls mounted on a side-console or a remote. We have the one with the remote and we like the flexibility of being able to put it wherever we feel it makes sense. The remote allows us to control the water temperature (warm water, yes!), water pressure (in 5 different settings), the position of the nozzle, the temperature of the toilet seat and a water massage feature, which is exactly as advertised. In case you missed it, you can control the temperature of the toilet seat! For those of us who live in the northern part of the country where winters are long and cold, a warm toilet seat sounds heavenly!
The SpaLet bidet has actually two nozzles for front and back cleansing, as needed. For those who wonder about the cleanliness of the nozzles after regular use, the nozzles are claimed to be 'self-cleaning' and nestle completely in their compartments after every use. There is also an odor-control feature, using an active charcoal deodorizer, that kicks in whenever you sit on the seat (you can hear the fan flip on) and automatically shuts off a few seconds after you get up. The life of the deodorizer is claimed to be a whopping 10 years!
With two rambunctious young boys in our house, I've worried in the past that they would create havoc with the handheld bidet sprayer and yet neither of them have ever tried to use it themselves. I was likewise concerned once there were buttons (buttons!!) to tempt little fingers on the remote for the SpaLet Bidet seat and, to my surprise, the kids have accepted the new seat with a shrug. Maybe they have tried pushing all the buttons when I'm not around, but thankfully American Standard has included some child-friendly features (e.g. the seat must sense a certain amount of weight on it before the bidet features can be activated) that make it less likely to be treated like a bath toy!
So in the end, the question still is…to bidet or not to bidet? We vote for bidet wholeheartedly! We are so glad we tried the SpaLet Bidet seat and added this extra bit of luxury to our day-to-day lives. Are you ready to wash away your doubts and try out a kinder, gentler bathroom experience? Let the SpaLet Bidet seat transform your daily bathroom routine!!