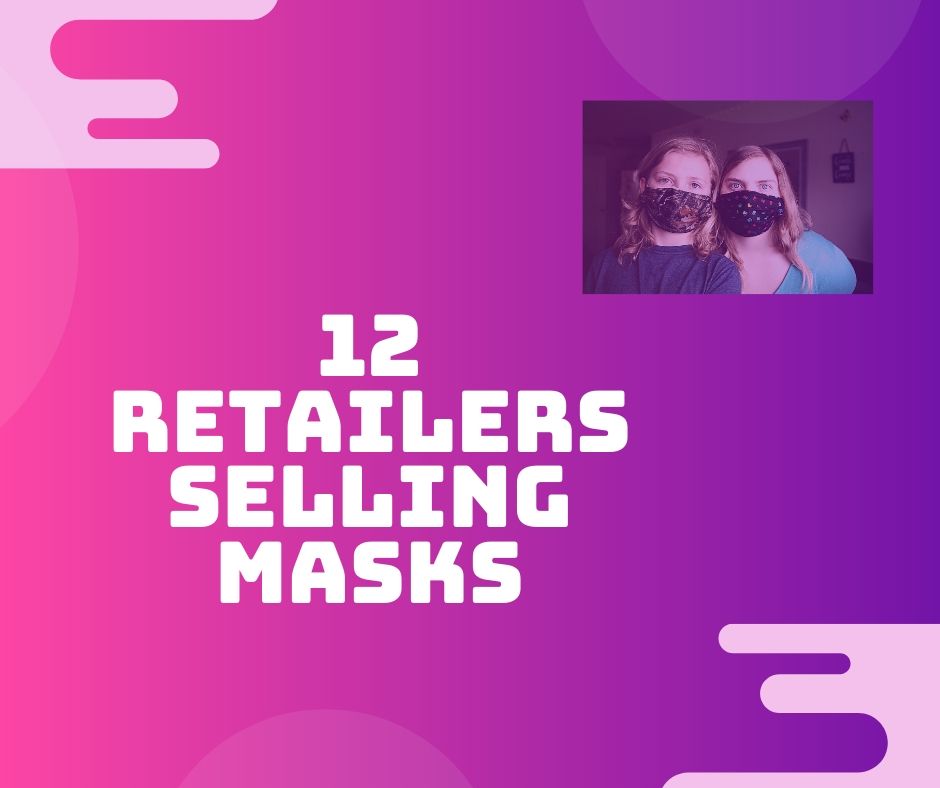 Carter's offers children's clothing, gifts, and accessories with lasting quality at a great value that makes every day comfortable and cute. Carter's plaid face mask for kiddos is available online now and suitable for all ages.
Under Armour's mission is to make all athletes better through passion, design & the relentless pursuit of innovation. That means everything Under Armour makes – shoes, apparel, accessories & connected fitness products – actually does something. Whether that means a T-shirt that keeps you cool or shoes that feel like nothing else you've ever put on – everything makes you better. Under Armour created masks just for athletes with the airflow they need, a cool feel, and the best fit for fitness.
Lands' End® is a classic American lifestyle brand with a passion for quality, legendary service, real value, and a simple two-word promise to stand behind everything it sells: Guaranteed. Period. As a global multi-channel retailer, Lands' End offers classically styled apparel, swimwear, and outerwear for Women, Men, and Kids, plus a complete line of home products, luggage, and seasonal gifts. Lands' End's cotton reusable and washable face mask 3-pack is made from 100% cotton jersey knit.
Zulily constantly helps its customers uncover the unexpected. Zulily's buyers search far and wide for unique products from up-and-coming brands — unique items customers won't see anywhere else. Zulily also features household-name brands in categories like women's, men's, kid's, as well as home décor, health, and beauty. Zulily believes value means great products priced well and provides up to 70% off of items on the site. Zulily has a super-wide selection of colorful masks for both kids and adults, all available now.
Reebok is an American-inspired, global brand that creates and markets sports and lifestyle products built upon a strong heritage and authenticity in sports, fitness, and women's categories. Reebok is dedicated to providing each and every athlete – from professional athletes to recreational runners to kids on the playground – with the opportunity, the products, and the inspiration to achieve what they are capable of. Reebok's face covers are comfortable, washable, and reusable for practicing healthy habits daily.
Janie and Jack offers classic children's clothing rich in fabric, design, and detail for girls and boys up to size 12 online. Heirloom-quality looks feature finely-crafted details such as hand-embroidery, hand-smocking, and special prints. Janie and Jack's masks are made with extra fabric in 100% cotton. For every pair, they'll donate $5 to children in need.
Since 1998, Athleta has been outfitting women athletes with the ultimate performance apparel and gear. We road-test, court-test, and water-test everything ourselves to be sure each item we offer features the perfect balance of performance and style. Athleta's Made to Move masks are designed to keep you comfortable during light activity.
Etsy is a marketplace where people around the world connect to buy & sell handmade & vintage goods. Etsy offers a meaningful & personal shopping experience to consumers & gives independent, creative businesses around the world the tools to be successful. Etsy has a wide selection of handmade masks via independent sellers, available in unique styles.
Vera Bradley is a leader in fashionable, colorful, cotton quilted handbags, accessories, luggage, and paper and gift items for women of every age. Vera Bradley's non-medical face masks are made from 100% cotton — soft, breathable and comfortable.
ShopDisney.com is The Walt Disney Company's premier retailer, providing a distinctive Disney retail experience that encompasses all the best Disney branded apparel, toys and electronics, stationery, and home décor. DisneyStore.com merchandise is inspired by classic Disney characters and key franchises, Walt Disney Studios and Disney-Pixar's blockbuster films, and hit Disney Channel programs. shopDisney has created masks featuring everyone's favorite characters, from Star Wars to Pixar.
So why shop Nordstrom Rack? Because we have the most current trends and the brands you love for 30-70% off original prices—each and every day. Nordstrom Rack is carrying a selection of chic face masks in gorgeous patterns.
Since 1994, Old Navy has continued to deliver on its original purpose to offer great fashion at great prices for adults, kids, and baby. And now, we also stock the latest maternity and women's plus sizes as well. Old Navy's multi-packs of breathable, washable 100% cotton face masks are now available for pre-order.
This post contains affiliate links.