Are you a mom who is looking to take her kids' camping? Camping with kids can be a lot of fun, but it can also be a bit daunting for first-timers. Here is a Mommy's guide to camping with kids that will help you prepare for your trip and make sure that everyone has a great time! This guide includes packing tips, information on different types of camping, how to set up camp, and ideas for activities to keep the kids busy.
What to pack and what not to pack?
When it comes to packing, every family and their needs are different. If you have a kid or an adult with special medical needs, start with them. Pack their medication and anything else that they need first.
When it comes to packing for a camping trip with kids, less is definitely more. You don't need to bring everything from home, just the essentials. A good rule of thumb is to pack one outfit per day, plus a few extras in case of accidents or bad weather. If there is a lake or swimming at the camp or near it, pack bathing suits. Don't forget to pack plenty of sunscreen, hats, and insect repellent, and don't forget the snacks!
Anything can happen in the great outdoors, so it is better to be safe than sorry. Pack a first aid kit, a powerful flashlight, a camp lantern, bear spray, and a loud whistle.
You should also pack a camp stove, pots and pans, glass and cups, freeze-dried meals, lighters and matches, fire starters, spoons or sporks, knives, and groundsheets. Don't forget umbrellas and ponchos. If you need more power or stay for an extended period, consider buying a portable power station.
Car Camping, Camper Van, RV, or Tent Camping?
Some people have lots of energy and can hike miles and miles to find their perfect camping spot. If you are one of those, go ahead; I salute you. But let's admit it, most of us aren't. We know our limits, and we cannot hike miles and miles with our backpacks filled to the brim.
To everyone like me, going camping for the first time with kids, or even the second or third time, and who does not like to rough it so much, you have several options to choose from when it comes to camping.
You can go car camping, you can rent or borrow a camper van, a full-size RV, or do just tent camping. I personally prefer car plus tent camping. I will arrive at our campsite in our car, pull out a tent and set it up with the kids. This type of camping allows me to travel with all my gear and still enjoy nature to the fullest.
Many national forests and other camping grounds have dedicated camping spots where you can pull in your car, stake a tent and be ready to camp. Yes, some people might say this is not traditional camping, and I agree with you, but I am a mom, running away from my day-to-day routines to enjoy something new and beautiful with my kids with no rules. My aim is to relax, disconnect from city life and try new adventures.
The other kind is renting, borrowing, or building your own camper van and camping in it. This has become a popular option in recent years. It gives you the ability to camp anywhere your car or van can take you. The great thing about this is that it doesn't require any extra gear, just your vehicle and some bedding.
If you want to go all out and get an RV, there are many different types and sizes to choose from. You can get a small RV that you can tow behind your car or a large one that requires its own vehicle. RVs come in all shapes and sizes, so you can find one that fits your family's needs.
No matter what type of camping you choose, the most important thing is having fun and creating memories with your family!
Also Read: Best camping gadgets for summers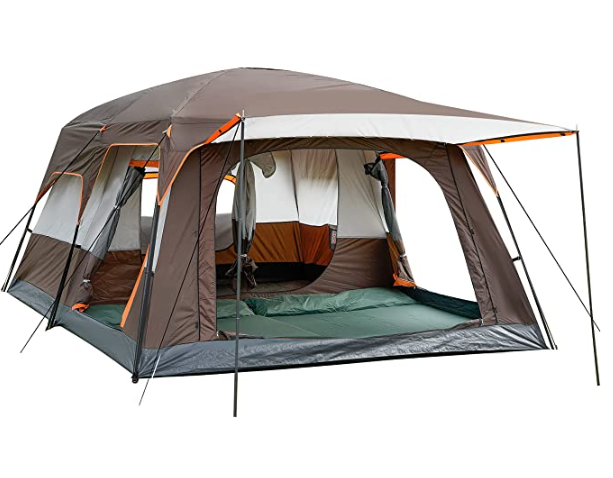 How to set up camp?
After you have chosen your camping spot, it is time to set up camp. If you are car camping, setting up is pretty easy. Just park your car and start unloading your gear. If you are like me and choose to car and tent camp. Pull your car to your spot and park it. You can use your car to block the wind, a dangerous cliffside, or just use it to seclude yourself from other campers.
Once parked, pull out your tent first and stake it to the ground. Try to find a level spot and remove any twigs and stones from the ground. You should involve your kids with you during this process. Regarding tents, always buy a tent one or two sizes larger than needed, or get two tents. Some tents can be joined together; you can also try those.
Pro tip: Try to camp in your tent for one night in your backyard to get used to it.
If you are camper van camping, find a level spot to park your van. Once you have found a spot, start setting up your bedding and other gear.
Now that you have chosen your campsite and set up camp, it is time to explore! Take a hike, go fishing, or just sit back and relax. The great thing about camping is that there are no rules. Just do whatever you want!
Keep the kids busy!
The key to a successful camping trip with kids is to keep them busy. There are many different ways to do this. You can bring along some toys, games, and books. You can also go on hikes, go fishing, or explore the area.
You can also camp near a park when the kids are really bored.
Safety:
When in camp or leaving to go on a hike, always carry your first aid kit, water, bear spray, torch, and communication devices with you. It's best to pack an emergency blanket as well. Always travel on well-established trails and don't wander off too far. Always let someone know where you are going and when to expect a check-in from you.
When going to get water or fetch something from a distance, take two people rather than one. If feasible, provide a whistle for each person. Teach the kids how to use it and what to do in case of an animal attack.
Recommended Reading: How to stay safe while summer camping?
Closing Remarks and Disclaimer:
I hope you found this mommy's guide to camping with kids helpful. These are some of the things I have learned over the years. It may apply to you or not, but remember, if you wish to connect with your kids on a whole new level, go camping. Remember, Safety should be your top priority. Learn about the area and ask local rangers or other government authorities what to expect and how to stay safe. The recommended products in this guide are just suggestions. You should decide on your own whether you want to get them or not.
If you have any tips or tricks for camping with kids, please share them with me.
What are the 5 most important things to bring when you go camping?
The 5 most important things to bring when you go camping are:
A tent
Sleeping bags
A camp stove
Food,
and water.
These are the bare essentials that you will need in order to have a successful camping trip. Of course, there are other things that you may want to bring as well, but these are the most important.